The ClearStream VIEW™ Amplified
UHF/VHF Indoor TV Antenna
It's an Antenna That's a Wall Frame!
ClearStream VIEW™
Amplified TV Antenna
50+ Mile Range
Includes a 20dB USB In-Line Amplifier, 
15 ft. Coaxial Cable, 5 ft. USB Cable,
USB Power Adapter, 12" x 16" Glass Window,
and White Collage Mat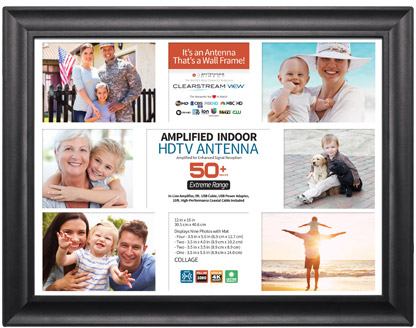 The World's Most Advanced TV Antenna Just Got
EVEN Better
Our Patented Loop Technology. Don't be fooled by its stylish looks, this advanced-performance wall frame HDTV antenna has the power and efficiency to receive signals 50+ miles away from broadcast towers, providing you with more channels. We designed it, so it will work indoors! The ClearStream VIEW is engineered to respond to a greater range of UHF and Hi-VHF frequencies along with a wide beam angle, so you won't need to aim your antenna. The multi-directional elements offer the power and efficiency normally found in antennas up to 10 times its size.
It's an Antenna That's a Wall Frame! Create your very own wall of memories with this beautifully crafted ClearStream VIEW Wall Frame HDTV Antenna. Perfect for anyone who wants to conceal an antenna in their living space. Features a deep black finish with an elegant feel which extends to each of the nine photos it encases. On the back panel, the unique slide-locks allow for easy access to add and replace your photos, along with a convenient, built-in keyhole to hang this wall frame in a horizontal position. The 14.25 in x 18.25 in frame (standard 12 in x 16 in glass window) displays nine photos with a white collage mat to include four 3.5 in x 5.0 in, two 3.5 in x 4.0 in, two 3.5 in x 3.5 in photos, and one 3.5 in x 5.5 in photo.
Plus, it's Amplified. The ClearStream VIEW includes our 20dB USB In-Line Amplifier System that provides added range and maximum signal reception to ensure consistent signal performance, for reliable picture quality and reception. Even better, when using the USB port on your TV, the amplifier will ONLY draw power when the TV is turned on, which eliminates power consumption. If you don't have a USB port on your TV, no problem! We provide a USB power adapter. You'll receive a clearer picture with fewer drop-outs, to make your viewing experience more enjoyable.
24/7 Support. Try getting a better guarantee in life than never having to pay for TV again. Call us day or night for technical assistance from our Connection Crew.
Lifetime Warranty
We are so confident in our advanced technology we offer the most comprehensive guarantee in the industry. Learn More >
Same-Day Shipping
Most orders received before 12pm CST ships the same day. Learn More >
Expert Support
We are available 7 days a week Monday – Friday 9am to 9pm CST and Saturday - Sunday 10am to 6pm, so call us toll-free at 1-877-825-5572 or chat with us online. Learn More >