There Is No Such Thing as a 150-Mile TV Antenna
What You Can (and Cannot) Expect From Your Antenna
Imagine yourself standing in the antenna aisle of your local big-box retailer or surfing the Internet comparing antennas. One box says the antenna inside gets stations from 100 miles away. Another product's description boasts that it's a 4K antenna. Or, maybe you saw the one claiming it can deliver cable channels.
We've heard it all and seen it all. There's no governing body or industry oversight to check the claims being made when it comes to TV antennas. That means there are many false claims being circulated today. A recent Texoma's article even talks about the multitude of "antenna scams" present in the marketplace. Antennas Direct refuses to play that game, and we always have.
Since 2003, we've been on a mission to educate the public about the advantages of watching free, over-the-air TV in HD with a TV antenna. Today, our continuing mission is to build upon that education, freeing people not only from their bad relationships (and endlessly increasing bills) with cable and satellite providers but also from the bad information they may be faced with when deciding which antenna to purchase. Here are the top three things you need to know:
Antenna Range Claims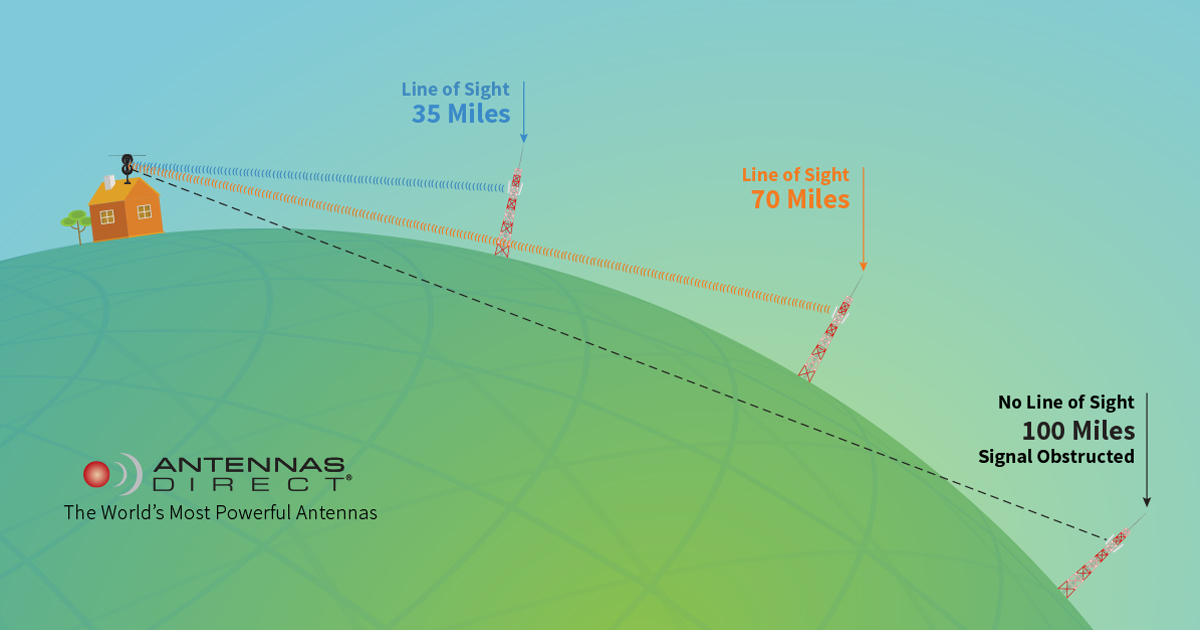 Scientific fact: The Earth is round. (Sorry, flat-earthers.) The curvature of the Earth will block most over-the-air broadcast signals at roughly 70 miles. According to the current laws of physics, it is generally impossible to deliver the 100 and 150-mile range claims some antenna manufacturers boast. While you may receive signals from farther away in absolutely ideal conditions (a home atop a hill whose broadcast towers are directly on top of another hill with a clear shot between the two and absolutely no obstacles) or you're inclined to engineer a unique (and probably dangerously tall) setup, then consistent, reliable reception of anything over 70 miles away should not be expected. Range can also be impacted by factors such as location, obstructions in the terrain around you, other buildings, the location of transmitters on the broadcast tower, and other variables. Antennas Direct's founder, Richard Schneider, raised his concerns about these dubious range claims in a TechHive article in 2019.
The Channels You'll Receive
You may be thinking that watching TV with an antenna will bring you back to the old days of antennas when only a handful of stations were available. Today, most areas in the United States broadcast 50+ channels over the air. Locations like Los Angeles have as many as 175 channels. We're talking about over-the-air broadcast television channels -which are transmitted in Full HD 1080p and with 5.1 surround sound- you receive for FREE once you have a TV antenna. In addition to your local NBC, CBS, ABC, PBS, The CW, and FOX affiliates, you'll also find a wide variety of specialty programming available on these stations. So much content is available over-the-air that we like to call it "the new basic cable". Keep in mind, these are network and local channels. You won't receive any pay-TV stations via a TV antenna, ever. We've seen antennas claiming this possibility, but it is 100% false. You will not receive ESPN, CNN, or any other such channel with a TV antenna. Period. That said, there are many new streaming options becoming available all the time which combine broadcast TV content with packages available for purchase to watch sports channels, pay-TV subscriptions, and more, all from one streamlined platform.
The 4k TV Antenna
As of writing this, OTA television is not yet broadcast to the general public in 4K. However, that doesn't stop unscrupulous antenna companies from claiming that (only) their antennas will allow you to watch broadcast TV in 4K. The truth is, once 4K broadcast television becomes available, any antenna will be able to receive it. What you, the TV-watcher, will need in order to view OTA television in 4K is a device which will be capable of decoding the transmissions your antenna receives so that you're able to watch your shows in the new 4K standard. This can be a TV or a designated TV tuner, for example, a set-top box. We believe that our ClearStream™ HDTV Antennas will deliver the best, most reliable picture quality we've always been known for when that day comes, which is why we indicate on our packaging that all our antennas are "4K-Ready". Until then, 4K-quality picture has become available through mediums such as Blu-Ray® and certain streaming services, but broadcast television viewers will need to wait until the new standard of television arrives on local airwaves in the near future, to view over-the-air television in 4K.
If you're still unsure or just need guidance choosing the right antenna for your needs, we are here to serve as your beacons of light for all antenna myths you may be grappling with. Our Midwest-based Connection Crew is available to answer questions and help you achieve the best possible over-the-air TV-viewing experience. They'll help you pick the right antenna for your location, troubleshoot installation, conduct a free home signal analysis, and more. They're a passionate bunch of real antenna enthusiasts who will help you separate fact from fiction and find success with a TV antenna.
More questions? Check out some of our other resources and FAQs here.
Happy cord-cutting!