The NBA regular season was long and a joy to watch. It' been great seeing 30 teams go head-to-head, night after night, and it's going to get a whole lot better! Now that we've reached the 2018 NBA Playoffs, we'll say goodbye to the low-ranking teams and finally focus entirely on the cream of the crop. You won't want to miss a single moment of this year's battle for the Larry O'Brien trophy, and here's some great news for cord-cutters: you can watch most of the playoffs using your Antennas Direct HDTV antenna. Here's how:
How to Watch the 2018 NBA Playoffs with a TV Antenna from Antennas Direct
The NBA Playoffs will air on ABC, ESPN, and TNT. The games will be split up between the networks, and some of the biggest games will be on ABC. That's great news for those of us who use an HDTV antenna to watch live TV for free without cable or satellite.
Why? Because, of course, ABC is a broadcast channel. Your local ABC station has a broadcast tower all its own, and you can pick up the over-the-air broadcasts it transmits with an antenna from Antennas Direct. In other words, you can watch the NBA Playoffs live — for FREE!
How to Get ABC for Free Over-the-Air with an Antenna
How do you choose the right HDTV antenna for your location and get ABC for free over-the-air? You've asked the right blog post, my friend, Cordcutting.com is one of the best places to discuss your options to watch network TV without ever paying for cable or satellite again.
Let me guide you in the right direction. First, there are several online tools to help you determine where the towers are located near your home to receive over-the-air channels. Check out Antennas Direct's online tool, called Antenna Point, to locate the TV transmitters in your area. You can also download their free Antenna Point app. Remember, you're looking for ABC!
On Antenna Point, you will see the distance to the towers from your home, which tower is transmitting the ABC affiliate, along with all the other available TV networks in your area. Then, you can choose your TV antenna based on the farthest tower from you. To make it even easier for you, at the bottom of the Antenna Point page, you'll see a selection of recommended antennas that are best suited for your home, to receive all the available channels in your area.
Next-Level OTA: Watching Recordings On-the-Go
An antenna is all you need to watch the NBA playoffs on your TV, but what about streaming the NBA playoffs using your Roku, smartphone, or other streaming device? Well, that's easy, too — provided you have the right antenna and a ClearStream TV.
For this trick, you'll need one of Antennas Direct's ClearStream wireless TV antennas. These Wi-Fi connected antennas allow you to watch, record, pause, and rewind live, local broadcast TV using their free app on your smartphone or tablet, anywhere in your home, or watch broadcast TV wirelessly through your streaming media player, such as a Roku, Amazon Fire TV, or Apple TV, all without a subscription or monthly fee. Why do you need a ClearStream wireless TV antenna? Let me put it this way, with a wireless antenna, you can place the TV antenna in the optimal position to provide the best multi-directional TV reception to the ClearStream wireless tuner adapter to watch live, local network TV on any streaming device. If life gets in the way, you can record the NBA Playoffs and watch them on-the-go, no internet required.
ESPN, TNT, and Beyond
A reliable HD antenna will take you a long way toward watching every moment of the NBA playoffs for free, and there are more streaming options available to become a master at cord-cutting. That's why we're here for you. Go to Cordcutting.com and look for guides to watching ESPN and TNT without paying for cable service, or check out our site anytime for more tips on streaming channels and free over-the-air TV using an antenna.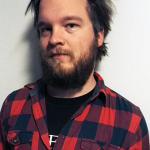 Ville Salminen is Editor-in-Chief of Cordcutting.com, a blog dedicated to exploring the world of cord cutting, including streaming solutions and free over-the-air TV. Follow them on Twitter @CordcuttingCom and find them on Facebook here.