Antennas Direct is hitting the road again for our 2016 TV Liberation Bus Tour! If you know anything about us, we can't stay still for too long. We get extreme wanderlust, a desire to take our bus and get out of town, visit the hidden gems of the United States. So we took that itch to get back on the road and liberate more Americans from pay-TV. And as an added bonus we are giving away a Sharp 50″ LED 1080p Smart HDTV Roku TV. We will be kicking off our bus tour with a visit to one of our favorite cities, Little Rock, AR. We will also stop in Macon, GA; Charleston, SC; Asheville, NC; and Baltimore, MD. See the list below for full details.
This year's bus tour is in partnership with the NAB, TVfreedom.org and Sinclair Broadcast Group and we are excited to work with this powerhouse group.
Stay tuned for more info on the bus tour and to see updates from each city! We will be posting daily videos recapping each giveaway, and knowing our crazy bunch, you will want to stay tuned to see these updates. And if you want us to come to YOUR city next time, be sure to let us know by filling out the "Bring the Bus to my Hometown" form HERE.
Will we see YOU on the TV Liberation Bus Tour?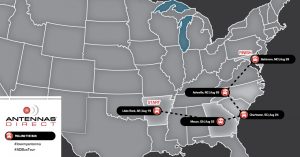 Little Rock, AR
Friday, August 19th at 6AM
KATV, ABC 7
Event Location: Promenade at Chenal, 17711 Chenal Pkwy, Little Rock, AR 72223
Macon, GA
Monday, August 22nd at 6PM
WGXA, FOX 24 and ABC 16
Event Location: Papa John's (265 Tom Hill Sr Blvd, Macon, GA 31210)
Charleston, SC
Wednesday, August 24th at 6AM
WCIV-TV, ABC 4
Event Location: WCIV-TV, 888 Allbritton Blvd, Mt. Pleasant, SC 29464
Asheville, NC
Friday, August 26th at 6AM
WLOS-TV, ABC 13
Event Location: Bryan Easler Toyota, 1409 Spartanburg Hwy, Hendersonville, NC 28792
Baltimore, MD
Monday, August 29th at 6AM
WBFF-TV, FOX 45
Event Location: Grace Bible Baptist, 1518 N. Rolling Road, Baltimore, MD 21228