It's an antenna that's a wall frame! Powerful and stylish, multi-directional, UHF/VHF antenna
If you thought we were done coming out with new antennas, you were wrong! We just can't stop! We get inspired and continue our research and development on new, cool and AWESOME antennas made specifically for YOU. So, without further ado, meet the ClearStream VIEW™: a wall frame TV antenna!
Is it a TV antenna or is it a wall frame? It's both! The ClearStream VIEW is an amplified, multi-directional, indoor, UHF/VHF HDTV antenna (phew, that's a mouth-full). The ClearStream VIEW features patented loop technology for advanced signal reception with a 50+ mile range for maximum viewing pleasure. You can create a wall of memories with the beautifully crafted ClearStream VIEW Wall Frame HDTV antenna that will display nine of your favorite photos.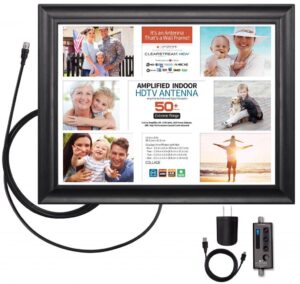 The ClearStream VIEW has a deep black finish on the frame for an elegant feel, which extends to the nine photos it will encase. The 14.25 in x 18.75 in (standard 12 in x 16 in glass window) wall frame displays nine photos with a white collage mat to include four 3.5 in x 5.0 in photos, two 3.5 in x 4.0 in photos, two 3.4 in x 3.5 in photos and one 3.5 in x 5.5 in photo. The back of the frame features unique slide-locks which allow easy access to add and replace your photos and has a convenient, built-in keyhole to hang it in a horizontal position. Change your photos throughout the year, add new ones, swap them out for holidays or birthdays; the options are endless. The ClearStream VIEW also comes with a 20dB in-line USB amplifier system that provides added range and maximum signal reception. The ClearStream VIEW not only looks elegant, it has outstanding TV signal performance.
So, now you might be thinking to yourself, "why did you develop this stunning, stylish and powerful TV antenna?" That is a wonderful question. We've heard people say over the years that antennas are ugly, an eyesore they don't want to look at in their home, and that just made us sad! In the past, you've had to decide, "Do I want an attractive TV antenna, or one that works?" We made it easy, by creating the ClearStream VIEW™, so now you can have both without making any sacrifices!
The ClearStream VIEW is available for purchase starting TODAY at https://www.antennasdirect.com. The ClearStream VIEW would make the PERFECT holiday gift!