Surrounded by storm chasing helicopters, vehicles and the latest weather coverage technology, the Broadcast TV Liberation Tour rolled into the National Weather Festival on the campus of the University of Oklahoma in Norman. With hundreds awaiting free access to their favorite television, Antennas Direct, in partnership with TVFreedom.org and News 9 liberated over 400 festival attendees with a ClearStream 2V antenna – granting them the most reliable connection to up-to-the-moment weather coverage.
And, in a market like Central Oklahoma, that kind of connection can be the difference between life and death. That is not hyperbole. There is a reason the local broadcasting meteorologists like David Payne at News 9 are heralded as venerable rock stars. And, with a TV antenna, those local viewers don't ever have to worry about outages due to inclement weather.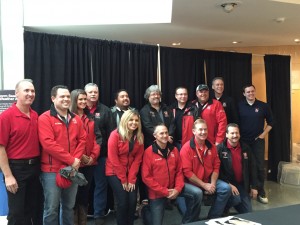 As the hundreds received antennas during the festival, the team of the Broadcast TV Liberation Tour heard comments about the reliability of antenna technology. And, long after the last antenna was given away, we remained on hand to answer the biggest questions that TV viewers had about antennas.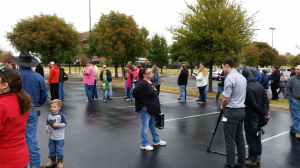 Will this work no matter what the weather does?
Yes.
What is the monthly fee for getting the signal over-the-air?
There is no monthly fee.
How many channels can we get with one of your antennas?
In this parking lot with the antenna pointed in the wrong direction, we are receiving over 50 channels.
What if I put it outside and something falls on the antenna?
The antennas come with a lifetime guarantee. Just let us know what happened, and we'll send you a new one.
The demand for #broadcast grows! #ADBusTour @WeatherFestival @NEWS9 @TVFreedomOrg pic.twitter.com/oZKxirLbcG

— Antennas Direct (@Antennasdirect) October 31, 2015
The total value of the giveaway in Norman was over $40,000 worth of antennas. However, the potential annual savings to local households was close to $600,000 if they cancel their subscription to cable or satellite television. That is money going back into their budget as opposed to lining the pockets of cable CEOs.
Like many of the stops on the latest leg of the tour, we saw the overwhelming demand for local broadcast television. We are still astounded at the emotional connection people make to their local broadcasters and the best entertainment the world has known. Broadcast television is the most reliable window into the world for a growing number of Americans.
If you would like to see the bus in your city, take a moment to check out our Bus Tour landing page and request a bus stop!