The ClearStream JUICE™ Amplifier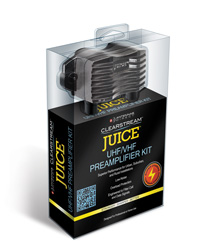 The ClearStream JUICE™ UHF/VHF Amplifier System
The ClearStream JUICE™ System comes with Low-Loss Power Inserter, two 36 in. Coaxial Cables, a 12V DC Power Supply, two Zip Ties and Assembly and Installation Instructions.

Juiced Up TV — Push The Limits Of Free Television
You already know the strength of free television. Now take your high definition living room experience to its full potential. Adding the ClearStream™ JUICE™ Amplifier System to your antenna boosts everything you love about television. It's free. It's beautiful. It's the best entertainment for your family.
Weak signals, distance, splitters, and even 100 feet of coaxial cable are no match for Juice™. Our engineers spent tireless hours in the lab and performed hundreds of experiments to craft a signal experience unparalleled on the market.
Robust. Juice™ is one of the most efficient amps you can buy. Its power has been harnessed, so it will not overload your TV tuner.
Clean. You get the television programming you desire with low noise and minimized signal interference.
Juiced Up TV. The only thing you will clearly see is beautiful, full high definition television.

Overload Protection
Prevents strong signals from compromising the TV tuner's ability to deliver the best picture and sound available.

Integrated LTE Filter
Removes cellular signals, which can interfere with channels transmitting close to the same frequencies.

Low-Noise
Provides signal amplification with minimal distortion. This characteristic provides maximum signal to noise ratio for efficient tuning.