Ahhh, the holiday season is here! The smell of cookies baking in the air, snow in the forecast, chestnuts roasting over the fire and of course, our epic holiday giveaway. That's right, it's back, back again, and this year is even better! The marketing team at Antennas Direct has this love of giveaways, and when you mix giving away rad gifts with the cheer and joy of the holiday season, it just gets us excited. We can't help it! We wanted to give away the ultimate XMAS gift, a dream cord cutting package, a prize that will make all your friends, families, co-workers and neighbors jealous. Interested?
Well before we get into the prizes that will make you the happiest adult kid on the block, we decided to give EVERYONE a gift because we're kind and have a heart of gold. Starting November 1st through the end of November, we are offering 25% off your antenna purchase at antennasdirect.com. That means you can save some money on holiday gifts, upgrade your TV antenna, or just avoid the craziness of shopping in the big box stores this holiday season. See, we always have your best interest at heart. All you have to do is use the coupon code XMAS25. And it gets even better, when you use the coupon code XMAS25, you are automatically entered to win our Home for the Holidays Giveaway!
Not ready to purchase? That's no problem, you can still enter the giveaway by filling out the form HERE. The giveaway closes on November 30th, so be sure to enter before the holiday craze gets in your way.
So now, here it is… the prize, you've been waiting for…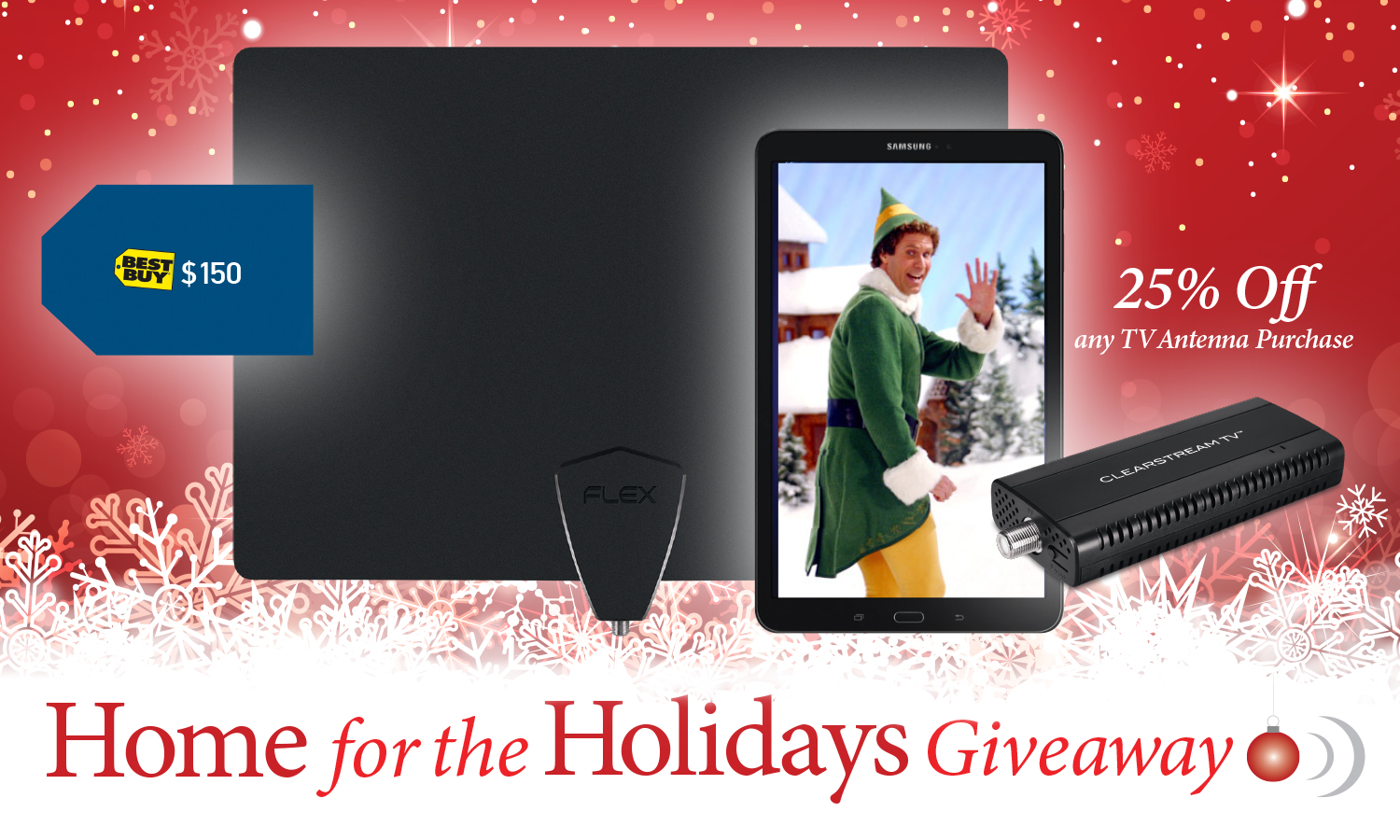 Prize:
Samsung Galaxy Tab A 10.1″ Tablet – 16GB ($279.99 value)
$150 Best Buy Gift Card ($150 value… obviously)
ClearStream TV ($99.99 value)
TV antenna of your choice ($50-$200 value!)
Yeah, that's a lot of good stuff! With the tablet, a TV antenna, and a ClearStream TV, you can wirelessly watch your favorite shows, ANYWHERE in your house. If your kids are hogging the TV watching their favorite Christmas movie, don't be a Grinch! You can still watch your favorite broadcast show on your tablet and keep peace in the house. That's a true holiday miracle.
We'll be announcing the Home for the Holidays Giveaway winner the first week in December, so be sure to enter, share with your friends and keep your eyes peeled to see if you're the lucky winner. And if you plan on checking some friends and family members off your holiday shopping list at www.antennasdirect.com, what do you plan on getting them? (Don't worry, we'll keep it our little secret, we won't tell them.)