There's something about us we think you should know. Something about our personality and our standards. We have this drive, something that just eats at us, and keeps us awake at night. That drive we're speaking of? To be the best and provide the most advanced antennas on the market. We can't rest until we know that our HDTV antennas provide, the hardworking, cord cutting folks, who deserve QUALITY products, are getting the best in the industry. Therefore, after extensive research, testing, and re-engineering with some of our most trusted tech gurus and nerds in the world, we are excited to announce that we have launched a NEW line of indoor, attic, and outdoor TV antennas!
Introducing: the ClearStream 1MAX™, the ClearStream 2MAX™, and the ClearStream 4MAX™! These new beauties might look a little familiar to you, and that's because we chose some of our most popular antennas and re-engineered them to receive a greater range of frequencies with virtually little to no assembly. That's right, we made it EVEN EASIER to cut the cord , so you can receive stunning, high definition TV. Because we care about you, and want to do what's best for you and your family.
The MAX antennas are ideal for urban, suburban, and rural areas where heavy foliage, tall buildings, or roofing material reduces the incoming signal. They are made for strength, with corrosion resistant materials and maintenance-free ruggedness to withstand 100 mph winds. And did you know that a single outdoor antenna can service more than one TV in your home? They're so easy to install because if your home ever had cable or satellite service, the coaxial cable needed to send the antenna's signal to all your TVs is already installed. We've even considered those apartment dwellers who cannot install an antenna in the attic or on their roof. The 1MAX has a keyhole to place on a wall, and the 2MAX comes with an indoor base stand.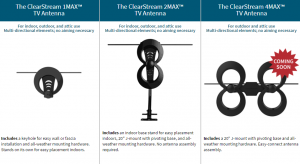 1MAX- 40+ mile reception distance (NOW AVAILABLE!)
2MAX- 60+ mile reception distance (NOW AVAILABLE!)
4MAX- 70+ mile reception distance (AVAILABLE IN JUNE)
The ClearStream MAX line of antennas are available for purchase on our website HERE and in-stores at major retailers such as Best Buy, Walmart and Lowe's by the end of June.
So what are you waiting for? If you're in the market for an HDTV antenna or ready to test out something new, pick up a MAX TV antenna today and let us wow you. Need help determining what antenna would be best for your location? We've got a solution for you. Give our Connection Crew a call at 1-877-825-5572 or chat with us online and they can check out your exact location and help you determine which HDTV antenna is going to be your new best friend.