Who doesn't love watching a movie or favorite show on a big screen with surround sound? But face it, sometimes the theater isn't the most enjoyable experience between screaming children, uncomfortable chairs and sticky floors. What if you could have a home theater system that blows all others out of the water? YOU CAN! Our friends over at The Wirecutter pulled together a list of the Best Gear for Building Your Home Theater. Perfect timing with the holidays right around the corner!
The list provides items like projectors, screens, speakers, and of course, TV antennas. TV antennas for a home theater? You bet! With a TV antenna, the picture quality of over-the-air television is crystal clear, non-compressed, and stunning. So naturally, The Wirecutter named our ClearStream Eclipse as the best indoor TV antenna!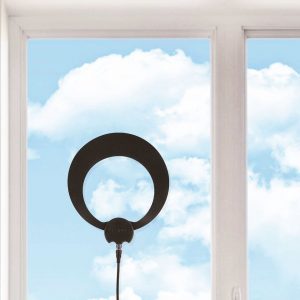 After testing 11 leading indoor TV antennas, The Wirecutter chose the Antennas Direct ClearStream Eclipse as the best indoor antenna for urban and suburban TV viewers. It's easy to setup, looks great and outperforms the competition. We have to agree; our ClearStream Eclipse is pretty wonderful and would make a great holiday gift. *hint hint, purchase now and have it wrapped up and ready for your next holiday party*
To see the full list of gear for the ultimate home theater, check out the Wirecutter article HERE. And to learn more about the ClearStream Eclipse HDTV Antenna.