They say that Charleston, SC is the friendliest city in the United States, and after today we can confirm that this is most certainly true. The crowd was the nicest group we've seen in the longest time. If you haven't visited Charleston, you need to make it a spot on your bucket list.
People started lining up before 3AM at WCIV for their free TV antenna. Now, a lot of times at giveaways, people silently sit in line and wait for it to start. That was not the case with this group. The people standing next to them in line became instant friends and we saw people chatting and laughing for hours. It was amazing to see, especially so early in the morning (and trust us, we are not necessarily morning people, so this was a delight.)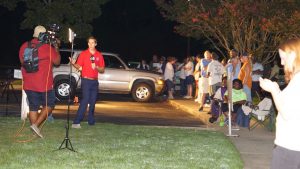 WCIV went out of their way to make us feel at home and we are extremely grateful that they let use their parking lot for our giveaway.
We are back on the road and on our way to Asheville, NC. We will see you 6AM Friday at Grace Bible Baptist, 1518 N. Rolling Road, Baltimore, MD 21228. We want to see you there, come out and join us.