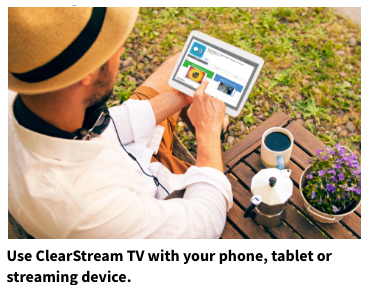 With ClearStream TV you can pause, rewind, and watch all your favorite network shows, such as ABC, CBS, NBC, Fox, PBS, myTV, ION, MeTV, The CW and many more, with no subscription or monthly fees. Use ClearStream TV with your Roku, Apple TV, Google Chromecast, Amazon Fire TV, Amazon Fire Stick, Kindle, and iOS and Android smartphones and tablets.
You can use ClearStream TV with any HDTV antenna, indoors, or in your attic. ClearStream TV must be within range of the wireless router.
Minimum OS requirements:
Android 4.2 or above, iOS 8.4 or above, tvOS 10.2 or above
Roku v7.50 b4099 or above, Amazon Fire devices from 2013 or newer
It's So Easy!
Click here to see How It Works
Connect the ClearStream TV to your HDTV antenna and plug in the power adapter.

Download the FREE companion app to your smartphone, tablet, or streaming device.

Follow the on-screen instructions to connect ClearStream TV to your wireless network.

Watch all your favorite live, network and local TV shows for FREE!
What You Need

ClearStream TV Over-The-Air WiFi Digital Tuner
Wireless Router
HDTV Antenna
ClearStream TV free app
Compatible smartphone, tablet, or streaming device
What You Need To Know

Connects to one device at a time (download the app to multiple devices)
Includes a program guide
Pause and rewind live TV for up to 1 hour
How It Works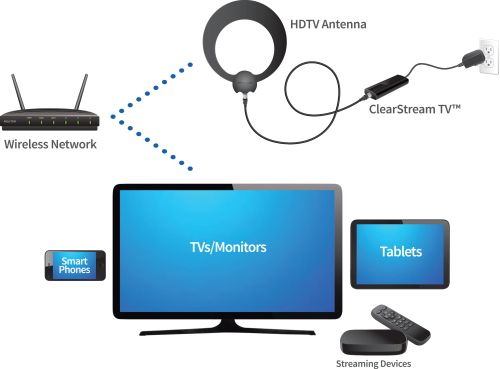 Using the ClearStream TV™ with Roku: Roku streaming devices do not support initial WiFi Setup of your ClearStream TV™. You will need to complete the initial WiFi Setup with an iOS or Android phone or tablet. You can find the ClearStream TV™ in the Roku Channel Store under TV & Movies. To watch live broadcast TV with your Roku device, select the ClearStream TV™ channel. When you are connected to ClearStream TV™ in the Roku Channel Store, the ClearStream TV™ Roku channel home screen will appear. On the home screen, you will see links within the Roku app for Live TV. Click here for Roku streaming device WiFi setup.