The ClearStream FLEX™ Amplified
UHF/VHF Indoor TV Antenna
The Only Ultra-Thin Antenna That Grips!
ClearStream FLEX™
Amplified TV Antenna
50+ Mile Range
Includes a 20dB USB In-Line Amplifier, 
15 ft. Coaxial Cable, 5 ft. USB Cable,
USB Power Adapter, and a Sure Grip™ strip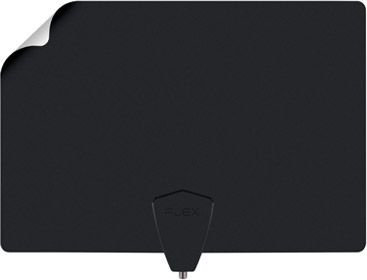 The World's Most Advanced TV Antenna Just Got
Even More Powerful
Our Patented Loop Technology. You'll experience more signal reception than any other flat indoor antenna you've found on the market. We designed it, so it will work indoors! The FLEX is engineered to respond to a greater range of UHF and Hi-VHF frequencies along with a 60° beam angle, so you won't need to aim your antenna. The multi-directional elements offer the power and efficiency normally found in antennas up to 10 times its size.
Plus, it's Amplified! The FLEX includes our new ClearStream 20dB USB In-Line Amplifier System that provides added range and maximum signal reception to ensure consistent signal performance for reliable picture quality and reception. Even better, when using the USB port on your TV, the amplifier will ONLY draw power when the TV is turned on, which eliminates power consumption. If you don't have a USB port on your TV, no problem! We provide a USB power adapter. You'll receive a clearer picture with fewer drop-outs, to make your viewing experience more enjoyable.
Grips to Walls and Windows. No hooks, Velcro, or damage to your walls! Only Sure Grip has our unique formula that allows you to stick your antenna to any smooth, flat surface including windows, walls, behind your TV, or take it on the road with you, it's the perfect traveling companion. When you want to move the antenna, slowly peel it from your wall or window and reposition wherever you need to find the best reception possible. Can be rinsed and repositioned over and over!
You Can Customize it. Customize the ClearStream FLEX™ any way your creativity takes you. Use non-metallic paints, stickers, wallpaper, digital printouts, or fabric to decorate your antenna, adapting it to your own personal style. The possibilities are endless; let your inner Picasso out!
24/7 Support. Feel free to give our Connection Crew a call, toll-free in the U.S.A., or chat with us online anytime. Our friendly team of antenna experts will be happy to answer all your questions. We're available 7 days a week!
You Can Customize it!






Lifetime Warranty
We are so confident in our advanced technology we offer the most comprehensive guarantee in the industry. Learn More >
Same-Day Shipping
Most orders received before 12pm CST ships the same day. Learn More >
Expert Support
We are available 7 days a week Monday – Friday 9am to 9pm CST and Saturday - Sunday 10am to 6pm, so call us toll-free at 1-877-825-5572 or chat with us online. Learn More >