Here are the facts: Americans are tired of paying for cable on top of their various streaming services and are running into the arms of TV antennas! Antenna sales in the U.S. have risen 4% over the past year according to the Consumer Technology Association. Streaming-only households in the U.S. are projected to eclipse the number of homes with cable by 2024 according to research from eMarketer. We like the sound of that!
TV antennas provide completely free access to local network affiliates such as NBC, CBS, FOX, ABC, PBS, The CW, and more. Thanks to Millennials who have long since cancelled cable, OR have never even paid for television in the first place, antenna sales are increasing, and cord cutting is becoming even more prominent.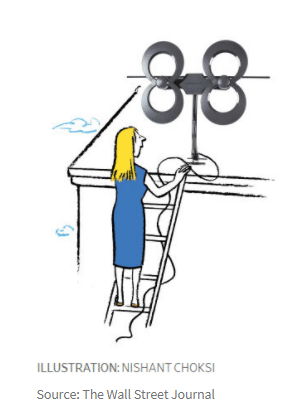 The Wall Street Journal has long been seen as a trusted source on all things tech, news, business, and more, and we are honored to be included in their top three TV antennas.
They featured our ClearStream 4MAX Complete Amplified Antenna as the best for your roof or attic.
"Designed to pick up broadcast signals from towers more than 70 miles away, this antenna lets you split the signal between up to three television sets at one time. The pivoting base accommodates installation on vertical, angled or horizontal surfaces."
Join the cord-cutting revolution and pave the way for the future of television!