We keep hoping these lies will go away, but here we are again, talking about outrageous range claims antenna companies are making online! Antennas Direct president, Richard Schneider, sat down with Jared Newman at TechHive to discuss these outlandish claims and how to tell the truth from the sleazy marketing.
So what are these companies declaring now? Mile range claims that would be absolutely IMPOSSIBLE! So what are these companies declaring now? Mile range claims that would be absolutely IMPOSSIBLE! Forget the hundreds of miles we've talked about in the past on Amazon, now we're seeing on eBay, Walmart and elsewhere online mileage in the thousands, with one particularly unethical company claiming 5,600 miles!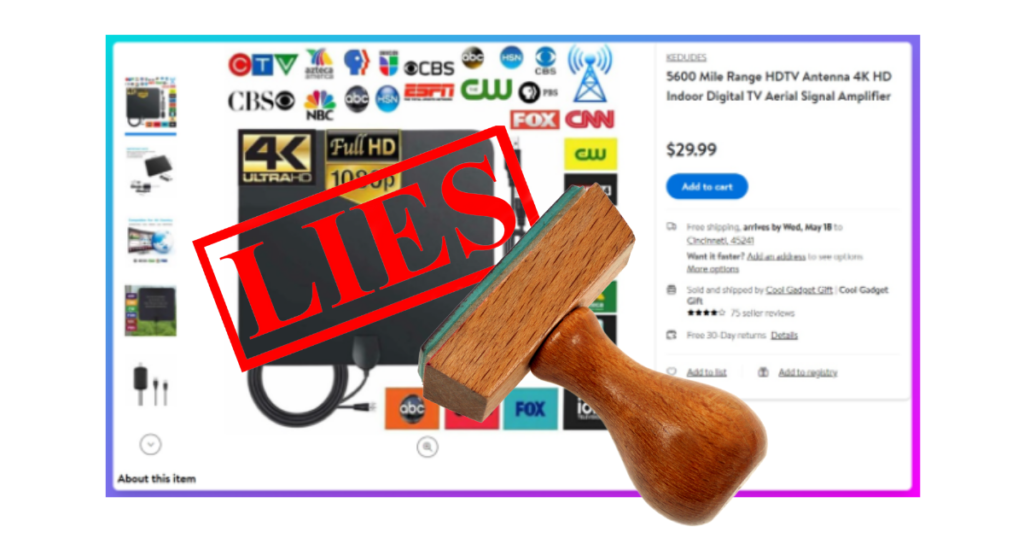 Jared says it best:
"Did you know that with the right over-the-air antenna, you can watch free broadcast TV stations from across the Atlantic Ocean? It's true, at least if you believe the marketing from antenna makers on sites like Walmart Marketplace (for online resellers) and eBay, which prominently advertise indoor antennas that supposedly puck up broadcasts from thousands of miles away."
"On eBay, the top search result for 'antenna' is a sponsored listing for an indoor flat panel model that advertises a 3,600-mile range, roughly equal to the flight distance from New York to Madrid."
Don't fall for these bogus and outlandish claims some companies are marketing online, be sure to do your research and purchase from a reputable brand like Antennas Direct with ranges representing the absolute best-case scenario and not claims pulled out of thin air. And if you're looking for a TV antenna and are seeing false antenna claims, raise the flag and report them!
If you need help choosing the best antenna for your location, give our Connection Crew a call at 877-825-5572 or chat with them live on our website. They can perform a signal analysis to help determine the best antenna for you based on your location to the TV towers. Do you think you'll get trustworthy customer service from these sleazy brands online? Absolutely not.
A big thank you to Jared Newman for digging deep, doing the research and helping to bring awareness to the deceptive marketing flooding the antenna industry.