Dawn arrives to the entrance of the KELOLAND-TV station at 10 PM – long before the other crowds. She huddles under the canopy in front of the foyer with a folding chair and blanket. Although Dawn knows she would be waiting for hours, she also knows the wait was worth it. The rain began to fall, the night becomes cold and the wind blows, and, still, she waits.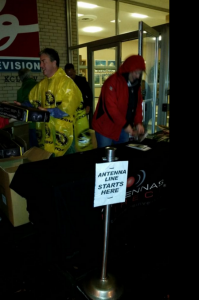 What drives Dawn to the steps of KELOLAND-TV was the chance to receive broadcast television in full high definition without the pain of a monthly fee. The crew from the Broadcast TV Liberation Tour (a partnership with Antennas Direct and TVFreedom.org) was set to giveaway ClearStream 2V antennas to the first 300 families at 6:45 AM – many hours later.
"I'm just fed up with my cable company," says Dawn still huddled in a fleece blanket. She had been refusing coffee for hours just to avoid going to the bathroom and losing her place in line. "The wait for one of these antennas is worth never having to deal with cable again."
Dawn is joined at 11 PM by several more people. By 5 AM, the line of for a free antenna stretched to to the end of the block and around the corner. The diverse crowd included TV viewers from neighboring Iowa, Nebraska and Minnesota. Periodically Paul Farmer from KELO-TV takes cups of coffee and umbrellas to the cold and wet masses – trying his best to keep them comfortable.
These hundreds of hard working people from our country's Upper Midwest would rather endure the physical discomfort of hours in the rain, wind and cold than to have to face the monthly anguish of cable subscriptions.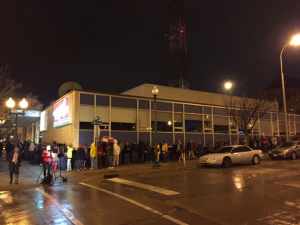 By 6:45 AM, at the start of the giveaway, when the downpour increases, the line numbers more than 1,000. Each of them excited and sunny. Seeing the extraordinary demand, we release our backup stock of antennas thus liberating more than 500 households from the clutches of pay television – 200 more antennas than we had originally budgeted for the giveaway.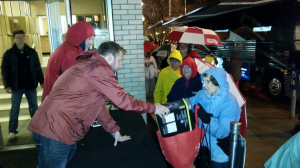 In true South Dakota fashion, each antenna is received with gratitude – hand shakes, hugs and thank-you's abound.
Aside from relief from cable bills, many in the crowd were excited to receive consistent connection to their favorite news and weather updates in high definition. Over-the-air signals never go away – even in the most inclement weather. And broadcasters like KELO-TV have invested millions in their technology to make sure viewers get the real-time weather with expert reporting. All of this without a monthly fee.
Live from @keloland with the #ADBusTour. @brittannlarson reporting on the massive demand for #OTA. pic.twitter.com/apGqoZiEBq

— Antennas Direct (@Antennasdirect) October 23, 2015
The Broadcast TV Liberation Tour is thankful to Brittany Larson for live reports and awesome support from KELO-TV. We are looking forward to our stop in Oklahoma City!