We're not the type of folks who can just sit by and be okay with what we have. We constantly want to produce the best products and BE the best. And thanks to our amazing team, we have once again done that.
We listened to comments from our customers and the reviews we received, good and bad, and reengineered our most popular antenna, the CLEARSTREAM™ Eclipse™. Why make an award winning antenna even better? Because we like to push ourselves and the industry is always changing. With new technology comes advancements and improvements can be made. So that is exactly what we did. We improved on perfection. You're welcome.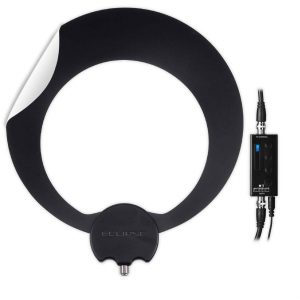 The most advanced HDTV antenna, CLEARSTREAM™ Eclipse™, has been reengineered with new technology to respond to a greater range of frequencies, so you get more programming.  Featuring a black and white side, this antenna is dual-sided or it can be painted, offering you options when it comes to matching your decor. Very important, we know.
For cord cutters around the world, this is the fastest, easiest path to receiving uncompressed HDTV free and over the air. The secret to the powerful, small antenna is the patented CLEARSTREAM™ loop – the result of over a decade of research. It's the powerful technology that has made Antennas Direct a leader in over-the-air advancements packed into an elegant and compact indoor HD antenna.
The CLEARSTREAM™ Eclipse™ is guaranteed for life and available in two models, Passive (35+ mile range) and Amplified (50+ mile range).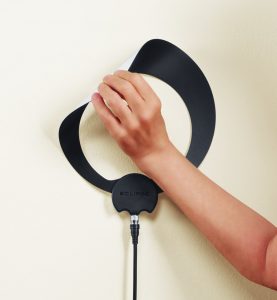 The new ClearStream Eclipse™ still features Sure Grip™, which means it can be positioned and repositioned to any smooth, flat surface. No more mounting, no brackets, or adhesives, and no holes in the wall. When you're installing your ClearStream Eclipse™, you'll thank us.
The ClearStream Eclipse™ is available for purchase starting July 1st. Pick up the best and HAVE THE BEST TV EXPERIENCE.