The good ol' Western movies always knew how to set the drama of a showdown. In the main street, tumbleweeds, high noon. As kids, we watched them huddled in the living room in the glow of broadcast TV.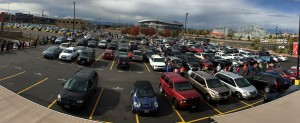 At noon yesterday, we hosted our own Western Showdown at the Pepsi Center in downtown Denver, Colorado. Armed with over 400 ClearStream 2V antennas, we faced off with pay-TV providers. In a partnership with KUSA-TV and TVFreedom.org, our Broadcast TV Liberation Tour attracted 1,000 people, so we handed out over 100 extra antennas to meet the demand.
We started our day with some news coverage at KUSA, and our founder, Richard Schneider, talking about the looks on people's faces when they realize they can receive their favorite television in high definition without a monthly fee.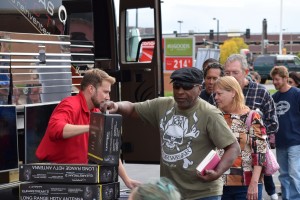 And we saw those looks over and over again when we started our giveaway. People from every walk of life. Before we even made it to our next stop in Rapid City, we received some great feedback from one of the newly liberated TV viewers:
"I want to thank you for your generosity! I was one of the lucky ones to receive a free ClearStream 2V antenna in Denver Yesterday. I had been using a smaller RCA over-the-air antenna, and when I plugged in the ClearStream 2V, WOW, what a difference. It works great, with many more channels and much clearer. I have already told many of my friends – it is a great product and a great company. I heard about your event on 9 News. Thank you again!

-Peggy
Peggy, we are so glad you had that WOW-factor when you did the channel scan. We know how you feel. Watch out Rapid City. Our Broadcast TV Liberation Bus Tour rolls into town tomorrow morning!