Antennas Direct Launches the ClearStream ECLIPSE™ 2 Indoor Antenna
Award-Winning ECLIPSE™ Now Available in Double Loop Technology for Maximum Gain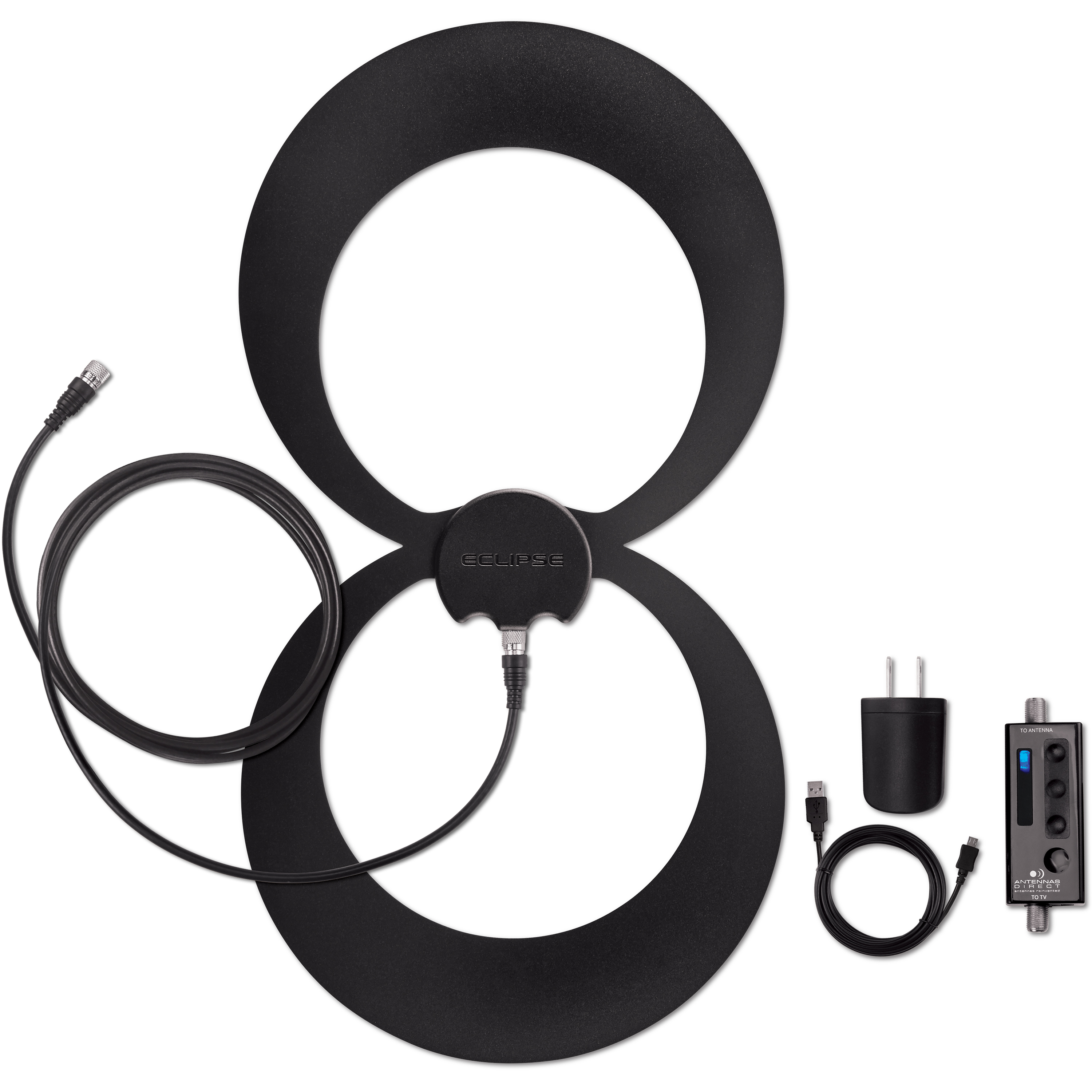 November 13, 2019; ST. LOUIS – Since its debut in 2016, the ClearStream ECLIPSE® from Antennas Direct has consistently been named top indoor TV antenna by prominent tech reviews and publications such as Forbes, Wirecutter, and CNET, among others. Today, the company has taken the technology and performance of this #1-rated antenna one step further with its newest addition to the ClearStream® family: The ClearStream ECLIPSE™ 2 Amplified Indoor TV Antenna.
The ClearStream ECLIPSE 2 was developed for cord-cutters who embrace the convenience of indoor antennas but seek greater performance and range. This antenna has the same double-loop element as the ClearStream 2 and 4 outdoor series, effectively bringing outdoor antenna technology to a discrete indoor antenna, delivering a true 60-mile range. The ultra-thin, multi-directional ClearStream ECLIPSE 2 is as versatile and easy to install as the original ClearStream ECLIPSE thanks to the included peel & stick strips which allow the antenna to grip to any smooth surface, and detachable, high-performance coaxial cable. The antenna also includes the ClearStream 20dB USB In-Line Amplifier System with power adaptor for enhanced range and maximum noise-free signal reception. As with the single-loop model, the unique design of the ClearStream ECLIPSE 2 antenna is reversible to show either the black or white side to blend into sophisticated spaces, or it can be painted to match any décor.
"We're well-known for the superior performance of the award-winning ClearStream ECLIPSE indoor TV antenna, as well as the long-range power and performance of our outdoor line of ClearStream antennas," said Richard Schneider, President and founder of Antennas Direct. "In developing the ClearStream ECLIPSE 2, we recognized that this was an opportunity to leverage the double-loop design of our outdoor antennas to deliver that high caliber of performance in an indoor model, further enhancing the over-the-air broadcast television-viewing experience with the most reliable, clear picture and sound available. Two loops are better than one!"
Antennas Direct is the only antenna manufacturer to perform comprehensive testing on product durability and performance, providing the unique ability to scientifically support advertised range claims and offer a lifetime warranty.
The ClearStream ECLIPSE 2 Amplified Indoor TV Antenna is available exclusively at AntennasDirect.com for $69.99.
About Antennas Direct
Antennas Direct is the #1 LEADER in antenna technology, reinventing the antenna for the digital era and dominating the market. With a heritage in over-the-air antennas specifically tuned for core DTV frequencies, Antennas Direct has invested major resources into the discovery and implementation of new antenna designs for digital reception. Founded in 2003, the firm is a member of the Inc. 500|5000 Hall of Fame and Future of TV Coalition. Visit Antennasdirect.com for more information.