Using ClearStream TV™ with Roku
Roku streaming devices do not support the WiFi Setup of your ClearStream TV. Complete the WiFi Setup or any software updates with an iOS or Android smartphone or tablet.
Record, pause, and rewind functionality is not available on any Roku streaming devices due to the limitations of the Roku data storage on the Roku device itself. These features work by allocating a certain amount of memory on the local device and using that as a buffer for the video. Roku has very limited memory onboard and has restrictions on how channels can perform.
WiFi Setup for iOS and Android devices to connect your Roku streaming device:
Download the App
Download the FREE ClearStream TV companion app to your iOS or Android smartphone or tablet. To download the app, go to your app store and search for "ClearStream TV" or click on one of the app store icons below.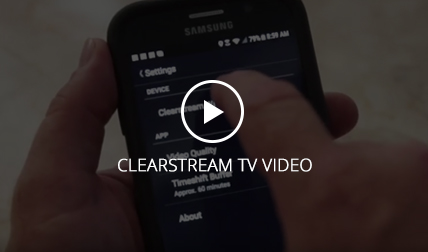 MINIMUM OS REQUIREMENTS: Android 4.4 or above and iOS 8.4 or above.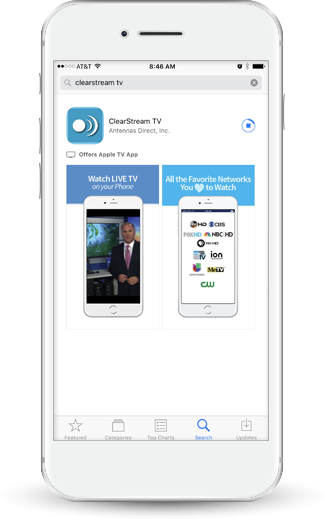 Power Setup
Plug the ClearStream TV power adapter into a wall outlet and the power cord into the ClearStream TV power jack.
Connect ClearStream TV™ to your TV Antenna
ClearStream TV works with any HDTV antenna, and connects using a standard coaxial cable, just like the one used to connect the antenna directly to a TV. Be sure the antenna is positioned in the best location to receive broadcast signals, and ClearStream TV is within range of WiFi signals, with no obstructions to facilitate proper reception.
Setup Lights
When the device powers on, you will see blue and red status lights. This indicates ClearStream TV is starting up. When the status light turns green, this means ClearStream TV is on and ready for use.

WiFi Setup
Select each step below for on-screen examples:
Launch the ClearStream TV app and select the Settings menu and then select Connect CLEARSTREAM TV.
Select Get Connected and then choose "CLEARSTREAMTV_XXXX" from the list of available wireless networks. This will allow you to connect the ClearStream TV as an access point, so you can connect ClearStream TV to your home WiFi network in the following steps.
Return to the ClearStream TV app and select Next.
Select your Home WiFi network to connect the ClearStream TV, and enter your home WiFi password. The ClearStream TV will reboot to finalize the WiFi Setup process. Select OK and wait for the status light to turn green on the ClearStream TV device.
ClearStream TV should now be connected to your WiFi network. Select Finish.
Select OK. Follow the instructions below to scan for TV channels.

Helpful Tip: ClearStream TV and your Roku must be on the same home network.
Add ClearStream TV™ Channel to Roku
Go to the Roku Home screen by pressing the home button on your Roku remote. Select "Streaming Channels", and then select "Search Channels", and perform a search for the ClearStream TV channel. Once you find the ClearStream TV channel, select "Add Channel".
Once in the ClearStream TV channel, go to "Settings", and then "Scan for Channels". Scanning for channels can take 5-7 minutes, depending on signal strength and the number of channels in your area. Once the channel scan is complete, go to Live TV and sit back, and watch all your favorite live, network, and local TV shows.
The ClearStream TV channel for Roku is supported on most Roku models. Some older Roku models may experience lower performance due to differences in Roku hardware.