Big Game LV 2021 Giveaway
Enter Our Big Game Giveaway!
It's hard to pick our favorite giveaway (it's kind of like choosing a favorite child), but our Big Game Giveaway tops the list. How could it not, the Big Game is the BIGGEST broadcast television event each year, which means you get to watch it for free and in crystal clear high definition with an antenna. That's right, millions of Americans will be tuning into the Big Game for FREE with their HD antenna, no cable or satellite subscription needed to watch your favorite local and network broadcast shows.
We're giving away:
ClearStream 4MAX TV Antenna or Any Antenna of Your Choice (up to $160 value)
55" Roku Smart TV (up to $400 value)
ClearStream® JUICE® UHF/VHF Preamplifier System ($79.99 value)
50 ft. High-Performance RG6 Digital Video Coaxial Cable ($39.99 value)
Antennas Direct Beanie Cap ($20 value)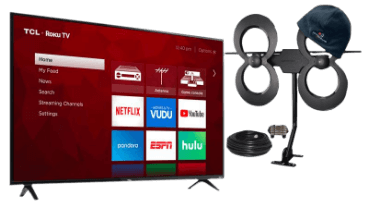 Enter to Win
What Channel Will the Big Game be On?
Tune into the Big Game LV on February 7, 2021 on CBS, kickoff time TBD. And don't forget about the half time show! This year The Weeknd will perform.
Not sure what local channel is CBS? Never fear, we have created a handy dandy tool to help you. Click below to find CBS in your area.
Take 25% OFF Everything!
To continue the Big Game celebration, you can use coupon code LV2021 for 25% off antennas and accessories purchase (excludes AirTV + Bundles). Plus FREE shipping on orders over $49.99.