Antennas Direct Named to Inc 500 List for Second Year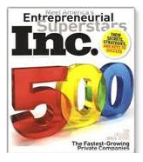 September 1, 2010: St. Louis, MO - St. Louis-based antenna manufacturer Antennas Direct announced its second year on the Inc. 500 list, being named No. 457 among the fastest growing companies in America. The company which has previously been on the Inc. 500 and Inc. 5000 list was ranked based on its 655 percent revenue growth between 2006 and 2009 by Inc. Magazine.

A year after the digital television conversion, Antennas Direct continues to experience exponential growth, outpacing pre-conversion sales. Because of national demand for over-the-air television, retailers such as Best Buy, Target, Fry's and Costco are carrying Antennas Direct products.

"Our antenna designs have been popular on the sales floors of retailers around the country," said Antennas Direct founder and President Richard Schneider. "Their small, sleek and strong design gives viewers the ability to bring in a higher number of channels, since they are specifically engineered for DTV signals."

In the past year Antennas Direct has invested over one million dollars in a new facility, located at 16388 Westwood Business Park in Ellisville, MO. The new location has room for 30 employees and a new lab committed to antenna design and research. The move gives Antennas Direct three times as much space, leaving room for additional expansion.

"The new location allows us to continue developing new and innovative antennas, which are stronger and smaller in design," said Schneider. "As more consumers continue to become aware of the quality of our antennas and over-the-air television, we are ready and expect our growth to continue well into the future."

About Antennas Direct
Antennas Direct is a St. Louis-based manufacturer of over-the-air antennas specifically tuned for core DTV frequencies. Its ClearStream antenna series has been widely recognized by broadcast engineers and industry publications for its patented design and performance for DTV. Antennas Direct, a 2010 Inc. 500 fastest-growing company, has invested major resources into the discovery and implementation of new antenna technology and continues to test and modify antenna designs, raising the bar by which antenna performance and appearance are measured. Visit www.antennasdirect.com for more information.