Cut the Cord, Kill Your Cable, Join Antennas Direct
Antennas Direct is hosting tailgate parties to extol the virtues of over the air high definition television at SXSW 2011.

- Antennas Direct is hosting a tailgate party at the South by Southwest Conference March 12 to 13 from 11am to 1pm, giving conference goers free food and drinks, as well as chances to win prizes.
- 1.6 million people will cancel their cable or satellite subscription by the end of 2011, according to the Convergence Consulting Group.
- Digital TV antenna sales have more than doubled in the past two years.
- The 2009 digital television conversion allowed broadcasters to transmit in high definition and add sub channels.
- Many people are cutting the cord on cable and satellite by using a DTV antenna and online complements, like Netflix and HULU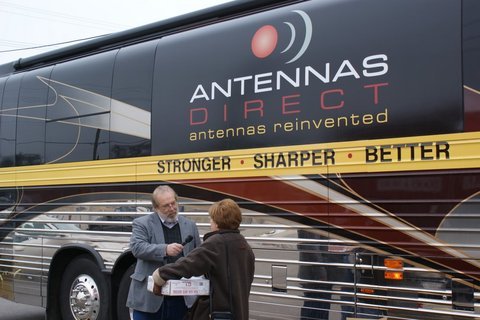 Mar. 11, 2010; ST. LOUIS - From smart phones to digital cameras, everything is going wireless in 2011. As people continue to cut the cord on pay TV, many are reverting back to one of the original wireless delivery systems, broadcast television. Helping lead the shift, Antennas Direct has brought digital TV into a new era, with a new audience.

After the 2009 DTV conversion, most broadcast stations switched to UHF signals, delivering many network and local shows in high definition. Capitalizing on this upgrade in TV transmission, Antennas Direct developed small indoor and outdoor antennas specially tuned for the new spectrum.

"You wouldn't stick a coat hanger in your iPhone when you can't get signal" said Richard Schneider, president of Antennas Direct. "It's the same concept with a DTV antenna. There is a very powerful network behind everything and the right receiver makes all the difference."

And the difference seems to be catching on. As people cut the cord on their cable and satellite providers, they are finding DTV as a way to receive the local programming not available on internet service providers like Netflix, HULU and Roku.

Today's DTV indoor antennas look nothing like the "rabbit ears" of the past, instead they better resemble the size and shape of a tablet computer. By using the more powerful UHF signals, broadcasters send out subchannels, meaning a local broadcaster transits more than one channel. With broadcasters adopting this new innovation, many TV markets carry up to 40 to 80 DTV channels.

Bringing the Antennas Direct tour bus to Austin, TX, the company will be providing free barbeque and drinks to conference attendees from March 12 to 13. The tailgate will run from 11am to 1pm on the corner of Red River and 1st Street, directly outside the Austin Convention Center. Tailgaters will be able to watch TV, play video games and win prizes. For more information visit http://www.sxswtailgate.com/.

About Antennas Direct:
Antennas Direct is a leader in antenna technology, reinventing the antenna for a new generation. With a heritage in over-the-air antennas specifically tuned for core DTV frequencies, Antennas Direct has invested major resources into the discovery and implementation of new antenna technology and continues to test and modify antenna designs for all frequencies. A multiple year Inc. 500 fastest-growing company, Antennas Direct is raising the bar by which antenna performance and design are measured. Visit www.antennasdirect.com for more information.