Posted in Antenna Update, Ask the Expert, Cut the Cord | Comments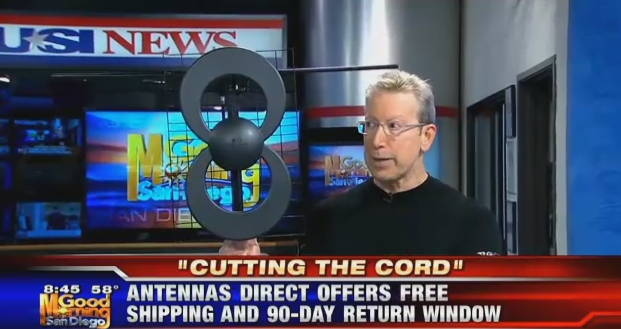 Bruce Pechman, the Muscleman of Technology, shares his tips with KUSI San Diego on how to save money by cutting the cord. If you don't know Mr. Muscle Man, check out his website, he's not only hilarious and an excellent resource when it comes to not only technology, but he's also a fitness guru. I mean, take a look at him. He's ripped.
According to Bruce, the first step to get rid of cable is by installing a TV antenna. His top pick? Antennas Direct, of course. Bruce suggests the ClearStream 2V antenna if you're looking for an indoor/outdoor model or the ClearStream Eclipse if you're looking for the ease and convenience of a powerful indoor antenna.
"Get all the local channels with a darn good indoor/outdoor HDTV antenna," says Bruce. "Antennas Direct, I say direct because you can call them and they will ask where you live, they will triangulate your location, tell you how far you are from the tower and tell you how many channels you can get."
That's right, if you're looking to cut the cord, but not sure where to start or what antenna would work best for your location, give us a call! Our customer support team is ready to answer your most burning cord cutting questions.
One of Bruce's favorite parts of using an antenna is the fact that you can get all the local channels without a monthly fee. With the onetime cost of an Antennas Direct antenna and you are set. Bye bye cable bill. Hello pocket full of cash.
Bruce also discusses other alternatives to cable, including Sling TV, Roku, Samsung Galaxy View, and much more. Be sure to watch the full segment for Mr. Muscleman's list of top cord cutting products.
Thanks to Bruce for featuring our ClearStream 2V and our ClearStream Eclipse.  Bruce, you are one heck of a guy. We're big fans. Whether we're looking to get buff or learn about the latest in technology, we know we can turn to you.