Posted in AD Bus Tour | Comments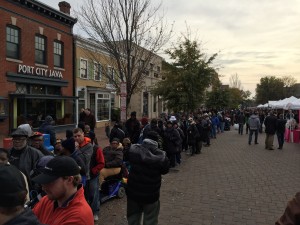 Antennas Direct, in partnership with TVFreedom.Org and LG Electronics USA Gives Away 1,000 C2V TV Antennas in Washington DC's Eastern Market 
Yesterday, in the shadow of our nation's Capitol Building, thousands of people gathered in the Eastern Market. This is not uncommon in that neighborhood. Every weekend, the area hosts one of the most vibrant and diverse farmer's markets in the country.
This crowd, however, was gathered for the chance to get their hands on one of the fastest growing video streaming technologies. No, they did not wait for an iPhone release or for the latest over-the-top video player. The throng of humanity patiently waited (some for hours) for a digital TV antenna.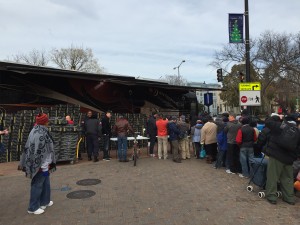 Antennas Direct gave bestowed 1,000 ClearStream 2V model antennas to the first 1,000 households present for the giveaway which started at 1 PM. And though it was the largest giveaway the #ADBusTour has ever hosted, all of the TV antennas were gone in just over an hour.
Here are some of the favorite things we heard:
"We haven't had TV at our house for months since we cut the cord. We are so so grateful."
"Now I can watch the Redskins in better quality."
"Wait, so I just plug this into the TV and I get high definition for free? Is there a setup fee? What's the catch?"
After we heard so many grateful patrons, one thing became very clear to us: the magic of broadcast television is too good to be true, and the demand for a free, high-definition, over-the-air television is skyrocketing.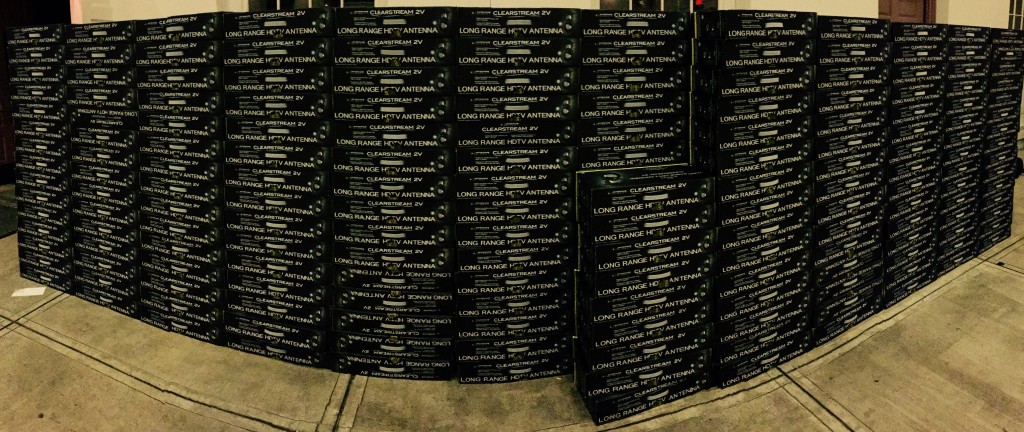 As part of a partnership with TVFreedom.Org and LG Electronics, this giveaway also featured a way for patrons to witness the C2V model in action. In the North Hall of the Eastern Market 14 LG flatscreeen televisions displayed just a sample of the almost 50 channels available for free, over-the-air in high definition. In particular, viewers were taken aback at the quality of the NFL broadcast on a 4K television. The picture quality was something to behold.
If you do the math, the impact of this giveaway becomes even clearer. In total, Antennas Direct dropped a $2 million stimulus package on the families in the Washington DC area. On average, cable subscribers in the area are paying close to $2000 per year for their cable bill. These 1,000 antennas can put $2 million back into the pockets of consumers. That is a stimulus that did not need the approval of the folks in Congress. It just took willpower, a tour bus and a love for over-the-air broadcast television!
Throughout the event, patrons had the opportunity to enter a drawing for a 42-inch LG Electronics HDTV – perfect for watching over-the-air television. When the drawing occurred, a phone call was made to Andre Miller. He didn't pick up immediately, though. He was outside installing his new C2V on the roof!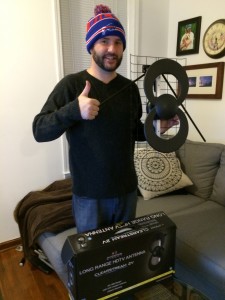 We love DC and the vibe of the Eastern Market neighborhood. We love people who love broadcast television! We can't wait to come back!