The 2017 World Series is almost here. Starting tomorrow, the last teams standing in the American and National League will face off in a seven-game series for all the marbles. Here's how the TV schedule looks:
Game 1: October 24 at Dodgers on FOX at 8:09 pm (ET)
Game 2: October 25 at Dodgers on FOX at 8:09 pm (ET)
Game 3: October 27 at Astros on FOX at 8:09 pm (ET)
Game 4: October 28 at Astros on FOX at 8:09 pm (ET)
Game 5 (if necessary): at Astros October 29 on FOX at 8:16 pm (ET)
Game 6 (if necessary): October 31 at Dodgers on FOX at 8:09 pm (ET)
Game 7 (if necessary): November 1 at Dodgers on FOX at 8:10 pm (ET)
My goodness, that's beautiful. As in years past, every single game of the World Series will be on FOX. That's good news for cord cutters because, like other major networks, FOX has a huge network of affiliate stations scattered all across the country, each with a broadcast tower of its own sending FOX programming out over the air for free. From FOX 5 in New York to FOX 11 in Los Angeles and everywhere in between, there are ways to get FOX – and every game of the World Series – for free.
Here's how to do it. Start by figuring out where your nearest FOX station's transmitter is. How far off it is will help you determine why type of antenna you need in order to pick up the broadcasts. This part of the process is super simple thanks to the Antennas Direct Transmitter Locator Tool, which is a tool that, uh, locates the transmitters. Like I said: super simple.
With the help of your zip code, the Transmitter Locator Tool will produce a map of nearby stations. For instance, here's a map for zip code 20003: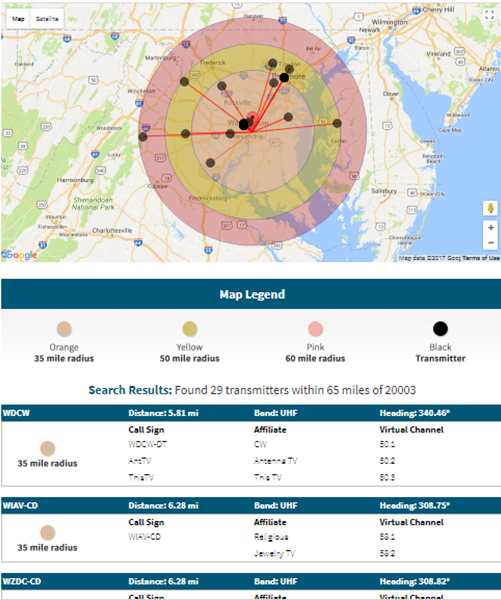 Further down on that page, the tool explains that the nearest FOX station is 7.09 miles away. Since 20003 is the zip code for National Park, we can deduce that an omnidirectional indoor antenna will be sufficient for anyone on the Nationals hoping to learn how to win a postseason series.
So check it out, find your local FOX station, and maybe take a peek at the distances to the transmitters for channels like ABC, CBS, NBC, and PBS while you're at it. They may not have baseball on this week, but when it comes to free TV, more is better, right?
Once you know what type of antenna you need, go ahead and buy it, plug it into your TV, and don't forget to scan for channels (hit the "Menu" button on your TV remote and start digging through the settings related to input devices – the scan function should be in there somewhere). That's it: you're ready to watch free over-the-air TV, and all in time for first pitch.

Stephen Lovely is the lead writer and co-founder of Cordcutting.com. He is a lifelong writer and a longtime cord cutter. You can follow him on Twitter at @stephenlovely.