As pioneers in the cord-cutting movement, it is our mission to educate viewers on not only the benefits of our HDTV antennas, but all the alternative viewing options that are available. From the integration of a streaming device to low cost services such as Hulu and Netflix—there are a slew of ways you could be saving money!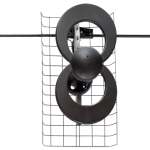 It truly warms the cockles of our heart when we hear that someone has canceled their pay-TV subscription. Recently, parenting blogger,      Meghan Cooper, wrote about her quest to find a more cost-efficient substitute to cable. While it is ultimately Meghan's goal to save money, she does not, however, want to lose all the programs she has grown to love.
Her conclusion: you don't have to settle for outlandish monthly fees in order to enjoy top-notch original programming! While we don't want to spoil her blog, (it is really great!) we have to fill you in on one small detail: she is now a cord-cutter! By integrating a ClearStream C2V HDTV antenna and a Roku streaming device, Meghan is now able to enjoy all of her favorite programs—minus the monthly fee!
To read all about Meghan's cord-cutting journey, please visit: http://jamonkey.com/get-tv-for-free-tips-to-save-you-hundreds/ or http://atlmomsonthemove.com/2013/03/getting-free-tv-in-atlanta/
View the complete line-up of HDTV antennas from Antennas Direct or visit Antenna Point to find the best antenna for YOUR location!