The World's Most Powerful Multi-Directional Antenna in the News
After a year in the making, we are truly thrilled to unveil our latest creation—the all-new DB8e! From its superior signal strength to its ability to target multiple towers from any direction—the DB8e is truly a one of a kind antenna. From the moment we made the announcement at CEDIA last year, we have been overwhelmed by the response from the media.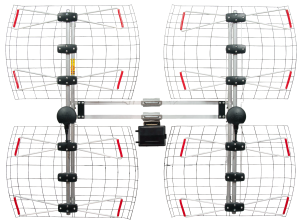 While we don't like to gloat—okay maybe a little—the DB8e has received quite a bit of attention from tech junkies and OTA lovers. Here is a quick snapshot of what people are saying:
Rachel Cericola, Big Picture Big Sound –
"People still use antennas to get good, old free TV. And ever since 2009's digital switch, many of the channels are available in HD-quality. Antennas Direct wants you to get even more channels for free, with the all-new DB8e Ultra Long Range Outdoor DTV Antenna."
"For those of us who live 60+ miles outside of a large city like New York, but have line of sight to Manhattan, the DB8e is the only way to get local HD channels for free. The ability to now pick-up free HD channels from other parts of New Jersey or New York makes this really worth checking out for folks like us, and could potentially be equally useful for you."
"The new model doesn't include a rotor, but the specs state that specially designed brackets allow it to rotate within a 360 degree loop. The photos show two four-bay antennas mounted side-by-side, with each pointing about 30 degrees off center."
"What's so special? Aside from the mind-blowing 17.4dBi gain (estimated, of course) the construction of the DB8e is going to amaze you. The antennas are arranged on two brackets that allow the antenna to be aimed in two completely different directions. If you're stuck between two markets, this is the antenna for you."
Wow! Pretty impressive, don't you think? While we are not in the antenna business for headlines and acclaim, it is still mighty gratifying to know that so many people love our antennas.
If you would like to learn more about the DB8e or you would like to place an order, please visit antennasdirect.com.