Posted in Tour info | Comments
KTAB CBS / KRCB NBC Abilene TX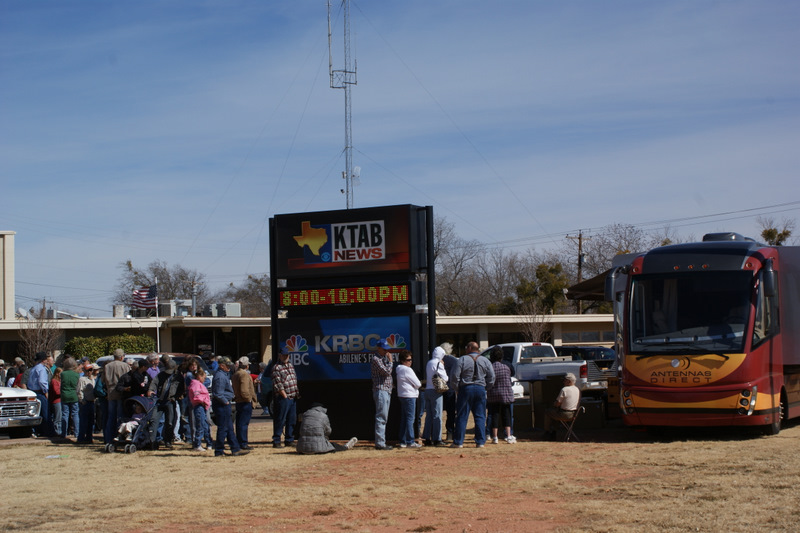 Holy Katie Anastasia Tewillager Brady in a prom dress! Whats going on here?
When we arrived at the station around 10am, there were already 100 people waiting for us; did we get the time wrong? The station's receptionist said some had been camping out since 7am.
It turns out that the station, in an earlier promo had implied that everybody who showed up would get a ClearStream, but on a first come first serve basis. We didn't bother with the prize wheel since some had driven over 100 miles and/or been there over 5 hours. Well 150 antennas didn't last long and by 12:45pm we were all out of antennas, so we spent the next 45 minutes giving out signal meters, shirts, hats & discount coupons until we were cleaned out. We probably shipped out an additional 40 free antennas to people who called the office claiming to be aggrieved.
Most people were friendly and appreciative but to people who cry victim, a few things to keep in mind:
We don't have control of the station's editorial content
There is a finite capacity of antennas we can carry and/or ship ahead, so its unrealistic to think that there will be an unlimited supply.
We are a small company and the value of the antennas we give away is between $10,000 – $15,000 per city. (and over $20,000 worth of gear in Abilene) These aren't Wal-Mart rabbit ears. This is a great expense for us, so you may want to consider this fact before getting worked up. Can you name any other Antenna company donating antennas to people with reception problems? I didn't think so.
Out of everything including maps and literature, we left a little early as we had a 9 hour drive for a 5:30 am news shoot in Beaumont.
Currently both stations are on partial power until they get new parts for their transmitter. After the repairs are completed around early May , they will both transmit at 1MW of power and should be easier to receive. The head engineer joked that a paperclip shoved in to the back of the TV may be all that's required for reception after May.