There's only one relationship we want to see you end this Valentine's Day – and that's your relationship with the cable company! Just think of all the things you could do to better your REAL-LIFE relationship if you stopped shelling out $80 a month to the cable and satellite companies…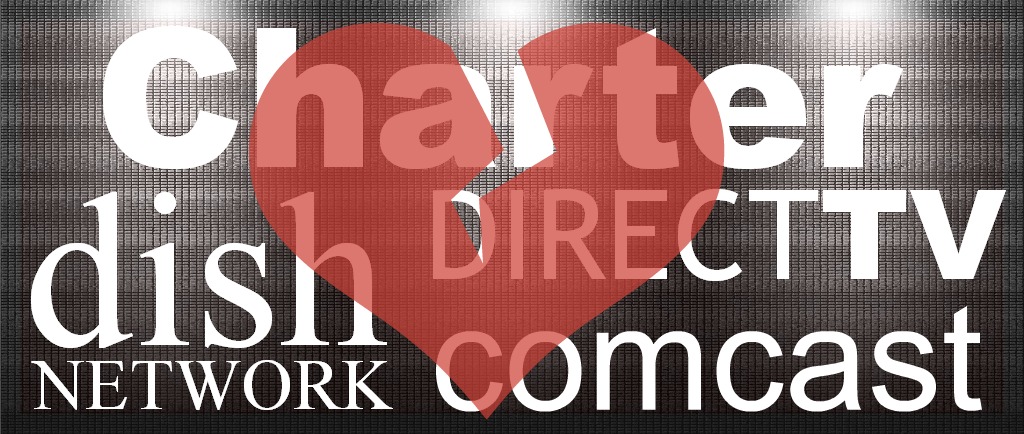 Most companies are trying to sell you bouquets of roses, heart-shaped boxes of chocolate and over-priced greeting cards. That's all fine and dandy – they don't call it a Hallmark Holiday for nothing.
This year – why not make a pledge to your sweetheart of a different kind? Make a promise to cut the cord and spend that money on each other!
Life's expensive… and so is keeping the spark alive! Romantic date nights aren't as cheap as they used to be. Forget a 10cent shake at the local soda fountain and a $1 drive-in movie. In this day and age, you're lucky to get a candy bar for a buck-ten! If you want a night out on the town, you better have at least $40 in your pocket… and that'd only buy you a couple burgers and a pair of movie tickets if you're lucky. You'll have to smuggle the candy in!
Dinner and a movie isn't the only thing with rising prices! Since 1995, average cable prices have been rising 2.6 times faster than the cost of living, reaching an average of almost $53 a month for basic, no frill service in 2009, according to FCC reports. Worse yet, the average cable bill in 2011 was $78!
If the average cable subscriber pays $78 a month, that adds up to just under $1000 a year! Just think of all the things you could be doing with that money –go on a vacation, invest in a bedroom makeover, hire a personal trainer or even just have a couple date nights every month!
What's that? You love cuddling on the couch with your boo-boo and watching your favorite shows? We're not saying you have to give up your love for TV. By no means – we love The Bachelor too! (Did we just say that out loud?) But what if we said you could still have that bonding time… but without the monthly fee.
Yep – that's right. Free TV. Let's just call it the Cable Company's dirty little secret. We're exposing the lies in your broken relationship. Forget cable – you don't need them! All you need is an antenna!  You can receive free, over-the-air, high-definition TV without the monthly fees. Pretty great, right? Yeah, we think so too…
Ready to cut-the-cord and stand up for yourself? Good! It's time to focus your finances on that cute sweetheart, honey-bunny, love-nugget, boo-boo, angel-face, sugar-bear next to you. Cut the cord and watch the sparks fly!
View the complete line-up of HDTV antennas from Antennas Direct or visit Antenna Point to find the best antenna for YOUR location!