June 14, 2012, 1:16 pm
By Bryan Gardiner
Best HDTV Antenna (For Cities)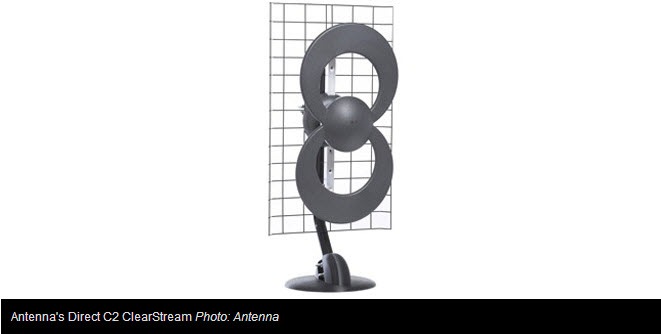 If I were going to drop (or supplement) cable with an antenna, I'd go with Antenna's Direct C2 ClearStream.
Before I get into why, though, a few important caveats and conditionals. First off, as much as we'd like to recommend one, there really is no best antenna. (Just like there's no such thing as an "HD antenna".) Antenna design and shopping is basically voodoo.
Why Over-the-Air TV?
Yes, that sounds daunting. But remember, the HD rewards can be sweet. These antennas pick up public stations, without a monthly service fee -- think of them as the modern, digital equivalent of rabbit ears. Over-the-air digital reception is usually far superior to that of cable and satellite. The latter providers need to use oodles of data compression to offer those hundreds of channels. That in turn compromises picture quality and can result in a "soft" image, distracting video "artifacts" (distortion), or both. So think of off-air antenna reception as the purest way to watch HD content.
Why Is it Hard to Choose an HDTV Antenna?
Despite those advantages, conclusively picking a great antenna is tricky. Even if we were to generalize based on location or zone (see below), there are simply too many variables at play in this category to provide anything resembling a definitive or useful choice for a broad swath of readers. The C2 I'm recommending here is a good fit for me and others living in the Bay Area and other urban and suburban areas, according to experts, user reviews and my own personal experience. It has advantages and disadvantages like any other antenna, and may not be best for you though. My main goal here is to outline how I came to settle on the C2 and give some good alternative recommendations as well. Your mileage, as they say, may vary.
In reality, buying the right antenna is predicated on a number of highly personal factors. Your geographic region, what stations are available in your area, what stations you actually want to watch, your distance from the broadcasting towers, whether you want an indoor or outdoor antenna, what your house or apartment is made out of, and how many reflective structures (mountains, tall buildings, etc.) are in your immediate area -- all of these and more will dictate what antenna works best for you.
Want more bad news? You can't rely much on specs, either. Ken Nist, a former electrical engineer and creator of HDTVprimer.com has reviewed countless antennas. He even built a site to help nontechnical types with the DTV transition back in '09. Nist says the majority of antenna marketing is a racket. "The less honest you are, the more antennas you sell," he says. For example, gain figures published by antenna makers are mostly useless, except maybe for comparing antennas by the same maker, because everyone measures gain differently.
What are HDTV Color Zones and What Range of Antenna Do I Need?
So how does one choose? Hopefully my 20 hours of research will be of use. But it may take a little bit of trial and error too. The good news is there are plenty of sites and resources that make settling on the right antenna -- or at least narrowing down the field -- a lot less time-consuming.
The first thing to note is that the Consumer Electronics Association (CEA) has kindly divvied up the United States into seven color zones: Yellow, Green, Light Green, Red, Blue, Violet and Pink.
The yellow zone is where reception quality is the best.
The pink zone is where it sucks.
Each color zone also has an associated antenna type that the CEA recommends too (small, medium, large, directional, omni-directional). For instance, directional antennas are better at picking up far-off signals while multi-directional antenna are better for people who live close to broadcasting towers. That's oversimplifying a bit, but still mostly true. The catch is directional antennas are highly sensitive to ... direction, meaning you may have to fiddle with placement to get a proper signal. This isn't necessary with omni-directional antennas.
To find out what zone you're in you can go to AntennaWeb.org and use the tool there. You can also head over to HDTv Antenna Labs and click on the corresponding zone for a list of specific antenna recommendations.
Other resources like HDTv Antenna Labs provide relatively easy ways to hone in on the right antenna. A cool new tool called the TV Antenna GeoSelector lets you plug in your zip and it'll show you a map with all the TV stations available in your area (both UHF and VHF), their exact distance from you, reception reports filed by OTAers living nearby, and automatic antenna suggestions with direct links.
TVfool.com also gives antenna shoppers a wealth of good information. Its TV Signal Locator will analyze your location to determine which broadcast television signals are available in your area. It then computes the expected signal strength for every channel "in the air" at your location, including adjustments for transmitter power, terrain obstructions, curvature of the Earth, and other factors that affect signal availability.
As a general rule, most city folk will be in the yellow/green zone, but again, local factors like big buildings blocking your antenna's line of sight as well as the kinds of materials your home is made of will all affect your actual reception and how many channels you pick up.
If you venture out into the real world, say Best Buy, you'll also find that many antennas will come with the color zone they work best in. However, it's important to note here that these CEA color classifications apply only to outdoor TV antennas. Why? Well, partly because they're better than indoor antennas (even the amplified varieties in most cases), and partly due the factors I mentioned above. Because of their larger surface area (they have more receiving elements), larger antennas will provide you with a stronger signal. They're also mounted in a higher location and outdoors, meaning you won't have all the potential interference you get with an indoor antenna. The relative strength of the signal an antenna can deliver to a tuner is known as "gain," and it is measured in decibels (dB). The higher the dB, the higher the gain. As Nist says, not everyone measures this the same way, so gain can be misleading. Anyway, making anything resembling concrete performance claims about indoor antennas would largely be useless so the CEA doesn't try.
Why Do You Like the C2 for Most City/Suburban Folks in the Green/Yellow Zone?
But anyway, back to my original recommendation. How did I settle on the 10- by 20-inch C2? Mainly because of its power and locational flexibility. It's also only $10 more than the average indoor antenna yet vastly superior as I'll demonstrate below. Oh, that and Nist and a few other electrical engineers happen to love it too. I'm lucky enough to live within a 10- to 30-mile radius of most broadcast stations so all I really need is a small-ish, multi-directional antenna to begin with. That said, there are a few more distant stations to the NW and SW that I could also pick up with a little extra gain, which the C2 has (10.2 dB). All told, users in the Bay Area (where I live) say it's one of the best antennas you can buy.
Yes, the C2is a little bigger than many other indoor antennas -- especially paper thin models like the Leaf. But at less than 1 foot by 2 feet, the C2 is still smaller than a lot of outdoor models. And you can mount it pretty much anywhere you want and out of sight: on the roof, attached to a wall, on a table, on a stand on the ground. AntennasDirect sells a number of different attachments, mounts, and masts so your options are always open. (FYI: I went ahead ordered one and used a paper towel tube to keep it upright.)
Because I'm in a yellow zone (and because I'm mainly interested in the UHF signals) all I had to do is point this guy out my west-facing window and I was good. I got a total of 21 channels, 17 of which were at full strength (including all the locals). Note that the vast majority of HD programming in the United States is broadcast on UHF bands. About 9 percent of the total digital TV stations in the United States utilize the VHF band. More stations are using VHF, though, so that percentage is growing. In truth, some UHF-only antennas, like the C2, can pick up a few VHF channels, usually 7-13 channel range, depending on your distance from the transmitters and a few other variables. That said, experts like Nist warn not to get a UHF antenna if want VHF channels too.
Plently of other OTA users sing the ClearStream's praise too. "All I can say is, WOW," says NYC-based reviewer on Amazon."I have 100 percent signal strength on nearly all channels, with a consistent 85% - 100% signal quality. It pulls in 24 HD stations (more than the ones I tried before) without moving the antenna at all, and with no extra amplification. I am using it as an internal antenna -- it's just placed by the window," he says.
One hundred and sixty-three customers on BestBuy.comhave given the C2 a total of 4.2 out of 5 stars citing its excellent reception and ease of setup as well. "It took me less than 10 minutes to assemble the antenna, connect [it] with the TV via coax cable, scan for channels (automatic) and VOILA !!!!! Crystal clear 30+ channels with the antenna behind the TV," says one reviewer, "and our home is about 45 miles away from the towers."
What few pro reviews there are also find the C2 to be an exceptionally good antenna. Ken Nist went ahead and conducted his own measurements for a number of popular antennas a few years ago. He measured things like raw gain and net gain and found the C2 to be an excellent performer in both areas. First of all, the C2 is small enough to be more than reasonable as an indoor antenna, he says. If you are a renter in a poor-signal location, the ClearStream2 (and a Channel Master 7777 preamplifier) is an excellent choice. To surpass it would take a large 4-bay outdoor antenna, which most renters would not consider reasonable indoors.
"For an indoor antenna, the C2, DB2, and 4220 are your best choices," Nist says. "The C2 is roughly the same size and performance as the DB2 and since the DB2 was the reigning champion of indoor antennas, and since the C2 is a little better, the C2 is the new champ."
Ara Derderian and Braden Russell, better known as the HT Guys, also recommend the C2. Both are engineers who formerly worked for the Advanced Digital Systems Group (ADSG) of Sony Pictures Entertainment. In their HDTV magazine review of the C2, they say the antenna did a great job when you consider its size and our location.
"If you live within 40 miles of the transmitters or you have a clean line of site and live within 50 miles of your transmitters, the C2 antenna is a great way to receive free over the air digital television," they say.
Indeed, while it's labeled an outdoor antenna on site's like HDtV Antenna Labs, and not a hybrid (which it actually is), the ClearStream 2 still gets a 4.1 rating. That's easily the highest rating an indoor antenna receives on the entire site. "Easy to assemble, easy to install, had all the hardware to install on the roof and great performance," says a recent reviewer. "The map said that I should have 30 channels and I got three extra channels."
It can get a bit technical but the AVSforum.com can also be a great source for antenna reviews by people who tend to know what they're talking about. One member, EscapeVelocity, did a massive roundup review of indoor antennas and says that the C2's "high gain, and compact design offer excellent gain and impedance matching across the whole post 2009 DTV spectrum," adding that "the Clearstream is vastly superior to the existing compact antennas for receiving DTV signals."
Smaller, Weaker Antennas That Might Still Work in City "Yellow Zones"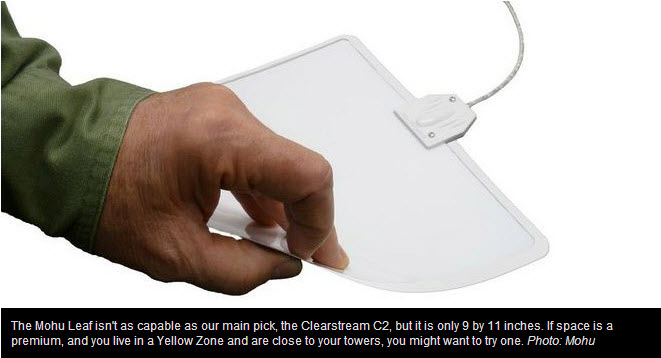 Of course just because the C2 works well for me, doesn't mean it'll be a good fit for everyone. Some people want a more compact antenna that'll blend in better. They won't be as powerful or have the same range as the ClearStream, but for slightly simpler, dedicated indoor antenna solutions the $40 Terk HDTVa, $47 Winegard SS-3000, and the $35 Mohu Leaf, also come with consistently high recommendations from owners and on the AVS forums. All three are UHF/VHF compatible too.
Again, indoor antennas are always going to be inferior to their outdoor counterparts. Indeed, part of the reason we picked the C2 is its ability to fit in either context. But they're also typically easier to install and are often a better fit for people living in apartments or rented homes who are unable to install anything permanently. If you live in an urban area that relatively close to broadcasting towers, they should more than do the trick.
PC World's Edward Albro tested five popular indoor antennas last year and liked the $40 Terk best. "[It] had the strongest signal on more stations than any other antenna I tried, winning on 15 of 28 stations," he said. "The Terk antenna also had a usable signal on 3 other stations."
Similarly, Albro says the $47 Winegard SS-3000 did a good job pulling in stations. "While it was a hassle to set up, the amplified SS-3000 drew a decent signal for 16 stations, though it had the best signal for only 2 of those stations," he says. The Mohu Leaf was his second favorite overall antenna and pulled in the best signal on eight of the 28 stations Albro could receive.
Rick Broida at CNET also raves about the Leaf. "Holy crap, the Leaf works like magic," he says. "In my aforementioned basement, my TV picked up every local station and tuned them in at nearly full signal strength. Your mileage may vary, of course, but I'm absolutely astonished by how well this thing works."
I decided to do a little comparative testing and pit the Leaf against the C2 just to see how things would play out. I order both the regular and amplified versions of the Leaf. Then I measured the signal strength of every over-the-air station that each antenna could bring in. Of my 21 stations, the C2 had the best reception (and picture on 17 channels). The Leaf, however, did a more than respectable job. Still while it picked up nearly all of the same channels (16 of them), the signal quality just wasn't as strong for most of them according to the percentage meter on my HDTV. That's not to say the HD picture wasn't more than acceptable, its just that if I were outside of the fringe of the range of the Mohu, the C2 would still deliver a picture.
I didn't order the Winegard or Terk models. But while they get lower overall ratings on HDtv Antenna Labs (3.9 and a 3.8, respectively), but they should be more than adequate if you want a general purpose, low cost, UHF/VHF antenna and live relatively close to broadcasting towers.
In particular, the SS-3000 seems to be a good choice if you are having trouble picking up reception in your area because of a blocked line of sight to the transmission towers, according to reviewers. Again, it doesn't have the range of the C2 (only about 20 miles), but it is designed for metropolitan areas where buildings and other tall structures can block and bounce broadcast HDTV signals. It'll also fit well on top of any large TV, bookcase, or television cabinet.
If you want an antenna that'll really blend in though, your best choice is the 9- by 11-inch Mohu Leaf. It really is the size of a sheet of paper, and close to the same thickness. And you can even hang it close to a window, or as some users have done, stick it directly to one. I didn't notice a big different between the amped and unamped versions, so I'd recommend going with the regualar version unless you know you're going to run into some interference.
At the end of the day, even a good HDTV antenna can be a finicky piece of gear. Happily, good antennas are not expensive at all. And whatever antenna you do buy, it'll likely be the cheapest component in your HDTV system. Still this piece of equipment will also have the biggest impact on the HD signal reception, and sometimes the difference of $10 to $15 can make a big difference in the antenna world.
We're not going to recommend a specific outdoor model here, because there are plenty of great ones listed and reviewed on sites like HDTv Antenna Labs. But if you're having trouble with the indoor or hybrid models mentioned above, experts suggest buying an outdoor model with a higher directivity/gain. And if you're in a violet or pink zone, consider buying pre-amplifier too. Your total cost still should fall somewhere in the $100 area.
But if you live in or near a city, our pick is the C2. Just make sure you are in a zone that is compatible with the antenna's range. A little homework goes a long way.