ClearStream TV™ Wireless TV Tuner Adapter for Antennas - Record Live TV!

Turn your TV antenna into a wireless antenna and record your network TV shows! Connect ClearStream TV to your home WiFi network to watch, record, pause, and rewind live, local network TV shows using our FREE ClearStream TV app on your Android/iOS smartphones and tablets, anywhere in your home, or watch broadcast TV wirelessly through your streaming media player with no monthly fees. Pause and rewind live TV for up to 1 hour, then you can fast-forward through commercials. Record your TV shows to watch on-the-go, anytime, anywhere, no Internet connection required. Includes a program guide to preview all your upcoming shows.

Use ClearStream TV with any HDTV antenna.
MSRP:

$129.99
Our Price:
$

99.99
IN STOCK
---
Overview

Documents

Specifications

Accessories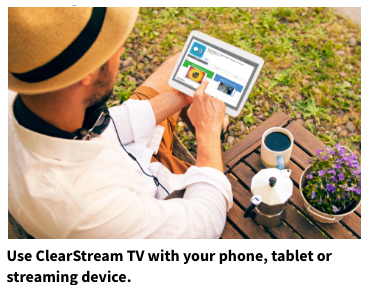 With ClearStream TV you can record, pause, and rewind all your favorite network shows such as ABC, CBS, NBC, Fox, PBS, myTV, ION, MeTV, The CW, and many more, with no subscriptions or monthly fees. Use ClearStream TV with your Roku, Apple TV, Google Chromecast, Amazon Fire TV, Amazon Fire Stick, Kindle, and/or iOS and Android smartphones and tablets. Place your antenna in the optimal position to provide HDTV reception to the ClearStream TV WiFi Tuner Adapter.
You can use ClearStream TV with any TV antenna, indoors or in your attic. ClearStream TV must be within range of the wireless router.
Note: The recording feature is only supported on compatible Android and iOS smartphones and tablets and Amazon Fire TV devices with available storage. See ClearStream TV FAQs for more information.
Minimum OS requirements:
Android 4.2 or above, iOS 8.4 or above, tvOS 10.2 or above,
Roku v7.50 b4099 or above, Amazon Fire devices from 2013 or newer.
It's so Easy!
Click here to see How It Works
Connect the ClearStream TV to your TV antenna and plug in the power adapter.

Place your TV antenna in the best location to receive broadcast signals. Visit Antenna Point or download the free Antenna Point app to your smartphone or tablet to help you find the broadcast towers.

Download the FREE ClearStream TV app to your smartphone, tablet, or streaming media player.

Follow the on-screen instructions to connect ClearStream TV to home your WiFi network.

Record, pause, rewind, and watch all your favorite live, network and local TV shows for FREE!
What You Need

ClearStream TV Wireless Tuner Adapter
Your Home WiFi Network (Wireless Router)
TV Antenna
ClearStream TV app - FREE
Compatible smartphone, tablet, and/or streaming media players
What You Need to Know

Connects to one device at a time (download the app to multiple devices)
Includes a free 24-hour program guide
Record your favorite shows to watch on-the-go, no Internet required
Pause and rewind live TV for up to 1 hour, and then fast-forward through commercials
Set a reminder to watch or record an upcoming show within the ClearStream TV app; you'll get a notification 5 minutes before they begin
Use ClearStream TV on your TV and on your WiFi device at the same time using a signal splitter (contact Antennas Direct for more information)
HOW IT WORKS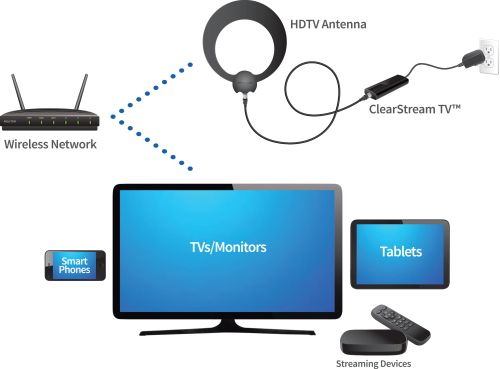 COMBINE NETWORK TV AND STREAMING SERVICES

ROOM-TO-ROOM MOBILITY

RECORD, PAUSE, AND REWIND

WIRELESS TV SETUP

Using ClearStream TV™ with a Roku: Roku streaming media players do not support initial WiFi Setup of your ClearStream TV™. You will need to complete the initial WiFi Setup using an iOS or Android smartphone or tablet. You can find the ClearStream TV channel in the Roku Channel Store under TV & Movies. To watch live broadcast TV with your Roku device, select the ClearStream TV channel. When you are connected to ClearStream TV in the Roku Channel Store, the ClearStream TV Roku channel home screen will appear. On the home screen, you will see links within the Roku app for Live TV. Click here for Roku streaming media player WiFi setup.
MODEL #:
CLEARTV
UPC #:
8-17848-01158-3
ASSEMBLED DIMENSIONS:
4.6"L x 1.5"W x .75"D
POWER CORD:
Cable length 4 ft.
WEIGHT:
2 oz.
COLOR:
Black

WIFI RANGE:

20 feet (range may vary)

MINIMUM OS REQUIREMENTS:

Android 4.2 or above
iOS 8.4 or above
tvOS 10.2 or above
Roku v7.50 b4099 or above
Amazon Fire devices from 2013 or newer

COMPATIBLE STREAMING DEVICES:
ROKU, Apple TV, Google Chromecast, Amazon Fire TV, Amazon Fire Stick, Kindle, iOS and Android smartphones and tablets
RECORDING STORAGE REQUIREMENTS:

Standard Definition: 2 hours = approx. 3 GB of storage
High Definition: 2 hours = approx. 5 GB of storage

WARRANTY:
Limited 90 days
Availability and performance of certain features and applications are device and network dependent. The ClearStream TV Wireless Tuner Adapter for antennas can be used on any home WiFi network compatible with 802.11n over 2.4 GHz or 5 GHz and compatible mobile devices.
ClearStream TV Wireless Tuner Adapter for Antennas
is rated out of
5
by
53
.
Rated

1

out of

5
by
NoPatience
from
Requires Open WIFI - Doesn't support Encryption
Unless I open up my private network, this device won't connect to it. Tried multiple wifi encryption methods as well as different wifi routers and it only connects if the device is unsecured (open). I wouldn't have purchased this if it was stated up front that it only supports open wifi connections. App works and reception is ok but functionality is useless for what I need which is the ability to use on secure home network. Still waiting for an RMA that was suppose to be sent. Best advice is to avoid purchasing until this product is either replaced or flashed with firmware that functions as described in the sales literature.
Date published: 2018-02-10
Rated

4

out of

5
by
jonathan12
from
Perfect for our townhome
My wife and I live in Columbia, MO in a townhome that we rent. We don't have the ability to craft an elaborate setup of splitters coax cables to get tv both up and downstairs. So, the ClearStream TV works perfectly for us. We now have access to the local stations downstairs without having to run a long stretch of coaxial cable through the house. I can watch any of the channels while running on the treadmill or while working at my desk. It would be perfect for a tornado or severe storm too; I can get live storm coverage while I'm in the safety of the bathroom. downstairs. So far, I've had great reception with my ClearStream Eclipse
Date published: 2017-09-08
Rated

4

out of

5
by
jsnola
from
Works - want more app/connectivitiy options
This works as advertised - but am frustrated that it does not also have a desktop application for PC and MAC - similar to a sling player - whereby you could watch your over the air TV on your computer in one window while you work in another one. Seems like it would be achievable. Also an Android App compatible with Sony Smart TV would be nice. We had to rig a system using an iPhone to play the IOS app then use older apple TV to do screen mirroring on our 4k monitor (no tuner) since we didn't have an easy method to get it to the monitor directly. In the same vane an HDMI repeater that could grab the wi fi signal and display it through any TV would be another approach.
Date published: 2017-08-30
Rated

5

out of

5
by
PCTools
from
Morning Coffee with ClearStream
The ClearStream TV works great for my application. As an OTA enthusiast, I added this into my system so I can view/listen to television with my cell phone. In the morning while having a hot coffee, I like to get caught-up on the local news without turning on the big screen and waking up other family members. I simply open the ClearStream application on my cell phone and begin viewing my local news with the WiFi Tuner. Sometimes, I even take the phone in the bathroom and listen while shaving. When I am working on my hobbies in the garage, I take my cell phone and external bluetooth speaker and don't miss the evening news when outside. I mounted the ClearStream device in a high position to increase my coverage and have no issues streaming into my garage. The tuner on this device is very sensitive as it recorded a total of 85 channels. I was amazed on how many stations were captured. Antennas Direct knocked it out of the park with this device!
Date published: 2017-08-23
Rated

2

out of

5
by
Harry Chinn
from
Doesn't live up to expectations
Some decent installation instructions would be helpful that explains what network is to be connected to your moblile device and when. I had to try to second guess, start over several times using the combursome resetting process, and try trial and error to finally get it to work. Then I find out that the TV playing device must be connected to the wireless turner's wifi, not my house wifi. Since I installed this in my attic, it becomes worthless for most of the house. The tuner's sensitivity for channells scanned is the best I've seen to date. What I would really like to see is a wifi connection between the antenna and the tv's antenna connection, replacing the coax with wifi from the antenna to turner.
Date published: 2018-01-13
Rated

1

out of

5
by
cmiddleton229
from
Very limited purpose, long time to load channels
My number one goal in cord cutting was to have access to live TV, in a format that give me a guide, let me pause live TV, and lets me stream outside my home over my cellular connection. I have tried TIVO, great guide, fast loading of the picture, but it didn't deliver live TV outside the home, not worth it for 399.00 So I decided to try the ClearStream TV OTA WiFi Digital Tuner: The good: Once a picture is loaded, it works fine if you don't channel surf. The bad: Long channel loading times, will not work outside the home or off home WiFi network, guide fails to load and when it does, it is one channel at a time and very slow. This device did not meet my goals, I don't use it. It is sitting hooked up in my basement unused.
Date published: 2017-09-02
Rated

5

out of

5
by
Shammers
from
Awesome Product
This is the solution I have been waiting for! I live in the city so over the air reception is an no brained option for me but I was having trouble getting signals in the basement. With the ClearstreamTV that problem is solved. Now I can put the antenna upstairs where it works best and still get perfect reception in the basement - plus the ability to pause rewind and fast forward. Also - customer service is fantastic. I was having some issues at first setup (turned out my antenna was the problem) and they helped me troubleshoot and resolve the issue. This product is well worth the purchase price.
Date published: 2017-09-02
Rated

2

out of

5
by
markwright
from
Performed Poorly for Me
I wouldn't purchase this again. 70 mile antenna with 5 stations within that area and picked up 1 channel that's about 12 miles away. Even the channel it picked up was extremely choppy. Would not purchase this item again.
Date published: 2017-08-28