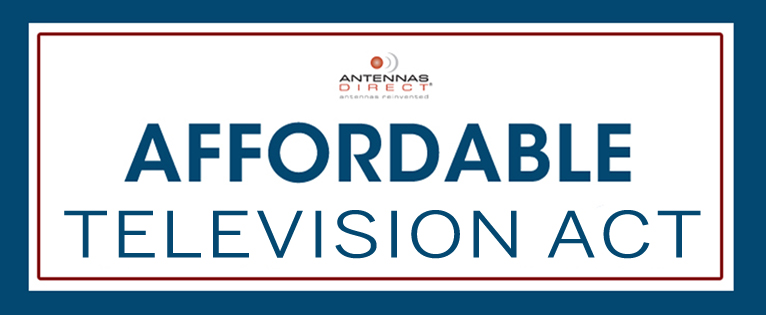 The Affordable Television Act (ATA) is a program from Antennas Direct that will grant access to free television for American viewers. We are providing free antennas to the first 1,000 people who provide proof of their canceled Healthcare bill. All antennas come with a lifetime guarantee - a promise you will not get from Healthcare or cable television.
What do you need to do, you ask? It's simple...upload a photo or scan of your canceled Healthcare policy. You can black out any personal information you do not wish to share, but we must see your name and address for verification.
Choose your free antenna below, pay only $4.99 for ground shipping. The antenna should arrive within a few days of your order.

---
ClearStream™ 1 Medium Range Indoor/Outdoor DTV Antenna

The ClearStream™ 1 Tapered Loop design receives core UHF DTV channels with a range of 35+ miles. It is engineered for strength and durability using anodized aluminum for corrosion resistance. This new antenna has a wide, 70 degree beam width allowing reception from widely spaced stations while eliminating multi-path interference.

Orig. Price:


$49.99


Your Price:


$0.00

ClearStream™ 2 - CJM Refurbished

The ClearStream™ 2 delivers DTV signals from widely located (spaced) broadcast towers. It offers forgiving aiming characteristics with a wide angle of reception, while still providing resistance to multi-path interference. The ClearStream™ 2 is stunningly efficient with a 50+ mile range and is 90% smaller than legacy antennas. Includes the ClearStream™ J-Mount.

Orig. Price:


$75.00


Your Price:


$0.00