Antennas Direct to Giveaway More Than $250,000 Worth of Antennas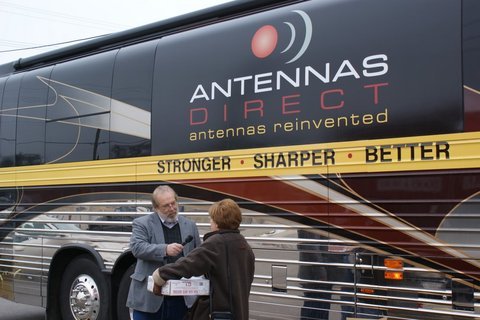 September 2, 2010: St. Louis - In response to one of the most volatile economic climates in recent history, Antennas Direct has launched a nationwide bus tour aimed at educating viewers struggling with shrinking household budgets and unemployment. The company is providing awareness and antenna giveaways to the thousands of viewers who continue to cancel their pay TV provider due to rising prices.

"We are educating people on an option they did not know was available, with advantages like multicasting, some markets offer more free channels than basic cable," said founder and president of Antennas Direct Richard Schneider. "Because people are working harder and making less, they are fed up with the cable companies' poor service and prices and are leaving in a mass exodus."

The pay TV cancellations Schneider refers to are the 711,000 subscribers that cancelled their cable subscriptions during the second quarter of 2010, marking the first time that pay TV providers shrunk in that quarter.

"There is monumental shift happening in the way people receive their favorite TV shows," said Schneider. "We want to be there to answer the questions of those people making the switch."

The bus tour, in its second year, has traveled to major markets all across the country receiving great fanfare, often with lines that stretch for hours. This is the first time that an antenna manufacturer has set out specifically to help those unemployed. At its first stop of the 2010 tour, nearly 1,000 people attended the bus's arrival in Decatur, Alabama. The tour will continue nationwide throughout the end of the year, a complete schedule is available at www.antennasdirect.com/bustour.

About Antennas Direct
Antennas Direct is a St. Louis-based manufacturer of over-the-air antennas specifically tuned for core DTV frequencies. Its ClearStream antenna series has been widely recognized by broadcast engineers and industry publications for its patented design and performance for DTV. Antennas Direct, a 2010 Inc. 500 fastest-growing company, has invested major resources into the discovery and implementation of new antenna technology and continues to test and modify antenna designs, raising the bar by which antenna performance and appearance are measured. Visit www.antennasdirect.com for more information.