It was 5 AM on an unseasonably cool October morning when the saviors of over-the-air television rolled into the Lucas County Fairgrounds in Toledo, Ohio. It was still dark and the headlights passed over a crowd huddled near the entrance. Some had been there since 2 AM. They smiled and waved at the Antennas Direct bus as it passed by. Finally, they thought, a chance for free television.
The Antennas Direct touring bus roared past them and settled in a nearby field to prepare for its latest stop along its giveaway tour. By partnering with local broadcasters, the touring bus is a chance to preach the gospel of over-the-air television (something that 80% of Americans still are not aware of).
The local NBC affiliate WNWO was already there and had staffed the giveaway. The president of Antennas Direct, Richard Schneider conducted live interviews with WNWO's Ashley Moser while hundreds of antennas from St. Louis were made ready for a new Toledo home.
"When we do these giveaways, it is less about Antennas Direct and more about the good news: you can receive over-the-air television in HD absolutely free with an antenna," says Schneider. "We are thrilled that local broadcasters like WNWO care enough about their viewers to let them know about over-the-air. That is what it's about."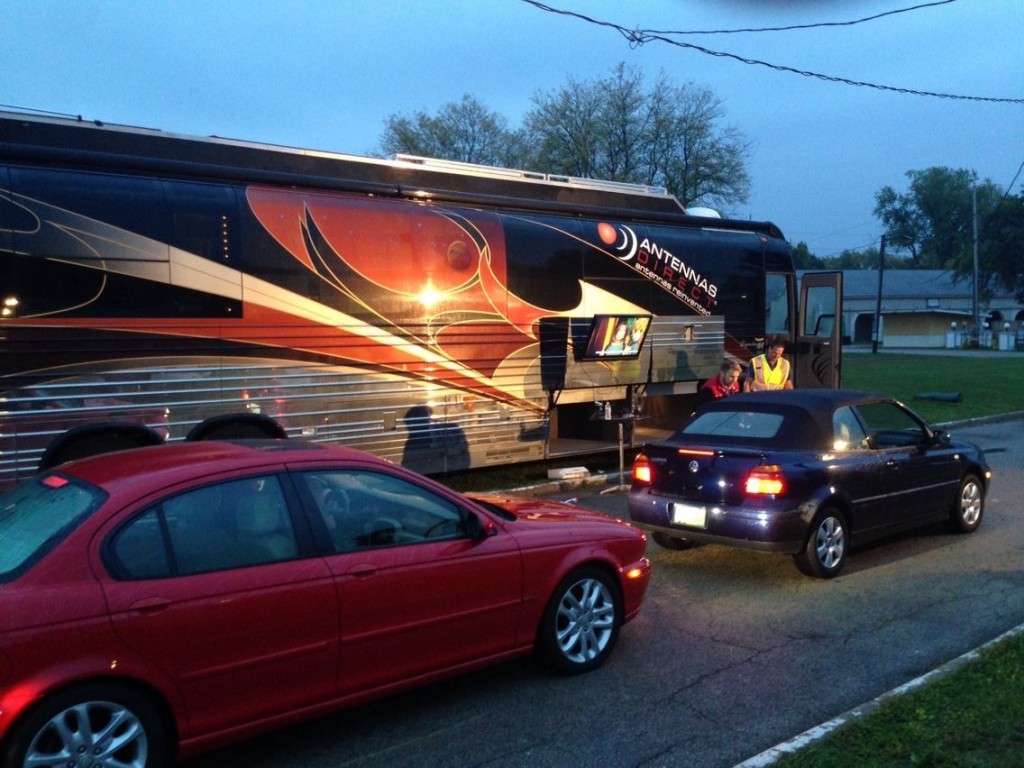 Soon a large crowd had gathered. More than 600 vehicles had gathered in the lot as the giveaway started. As viewers received antennas, there were some tears and countless "God bless you's." With the rising cost of paid TV, many Toledo residents (and others across the country) have cut television from their budget. So, for some, this meant an evening's entertainment with their family for the first time in a long time.
At the end of the day, over 300 people were able to receive free television. And countless others were made aware of the good news.
If you would like the Antennas Direct bus to visit your neighborhood or if you are a local broadcaster who wants to spread the good news of OTA, please contact Jeremy Nulik – Jeremy@kolbeco.net.