Posted in Ask the Expert | Comments Off on How to Ground an Outdoor Antenna
What is the best way to ground my Clearstream4 antenna? Should I use coax cable with an integrated separate ground wire, or run a separate wire? If so, what gage wire should I use? (I'm setting it on a tripod mount I purchased from you). Thanks! – From Steve in Fort Collins, Colorado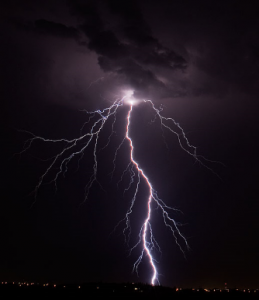 Hi Steve,
Grounding the coax cable with a coaxial lighting surge protector will protect your equipment from voltage surges created by nearby strikes but not from a direct strike. To protect yourself from a direct strike, attach a lightening arrester to the antenna mast. Connect #8 gauge wire to a copper clad ground rod driving it at least 4 feet into the ground.
We would also recommend checking your local electrical codes to make sure you are in compliance or even look into having a professional electrician advise and/or install for you. View this list of recommended antenna installers.
Antennas Direct accepts no responsibility for damage from improper grounding.