When you say, "Thank you," it's important to really mean it.
So we mean it, when we thank the executives at Time Warner Cable. They, once again, are raising prices to rebroadcast free, over-the-air content. Thanks to their backward practices, we just keep getting more and more customers. It's truly so generous of them.Rather than use lofty language as praise for cable's growing irrelevance, we decided to show a tangible sign of our appreciation. We delivered a cake right to their front door in New York.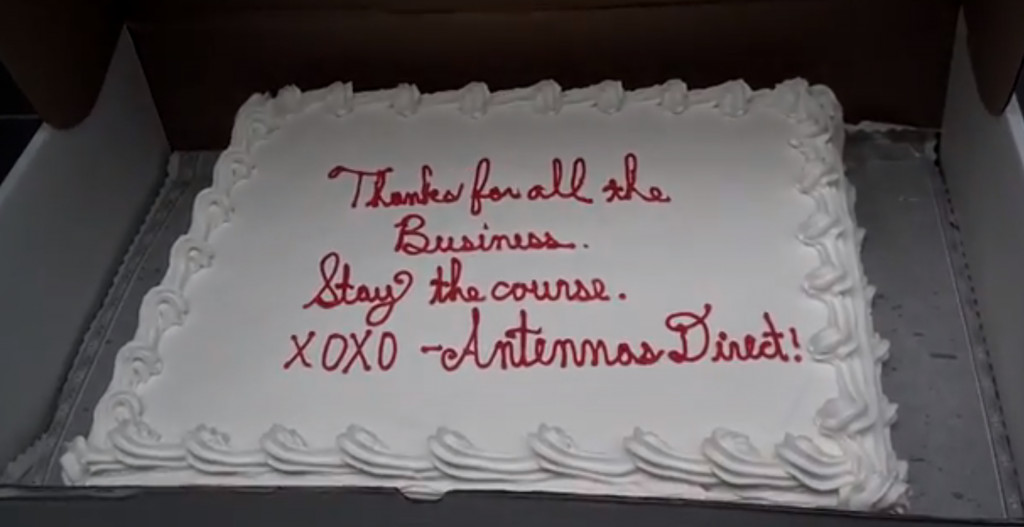 Our own president took it upon himself to pen some grateful, heartfelt prose.
—
From the Desk of Richard Schneider, President of Antennas Direct.
Dear Time Warner Cable,
I would like to extend a heartfelt thank you to you and your executives. You truly are an inspiration.
We at Antennas Direct are only a humble concern. So we do not have the marketing budget that you and the other big cable companies have. So on behalf of me and our employees, we want to applaud your 6.4 percent rate increase for your cable subscribers. It is decisions such as those that drive new customers to our site and flood our retail partners in search of some relief from your tyrannical rule.
So thank you. Sincerely. Just when we thought we would need to pour more into an advertising campaign, you help to convert your customers into cord cutters at a rate that is astounding.
Stay the course –
Richard Schneider, president, Antennas Direct
PS – I truly hope you enjoyed the cake. Vanilla whipped frosting? It doesn't get any sweeter.
—
Stay the course, Time Warner executives. Please do not deviate from your dastardly ways. You help to show more television viewers that there is a better way.