Question 1: I'm not sure which antenna is best for my area since most channels are UHF but two of the popular ones are High VHF. Also I need a digital converter box, do you know where I can get one? Thanks. From Anton, in Alhambra, California.
Question 2: I need an antenna that will give me both VHF and UHF reception. What is the best antenna that you recommend? – The length of cable will be about 50 or 60 ft. Do I need PreAmp? From Aubre in Howell, Texas.
Hi Anton and Aubre,
Since you both had questions regarding how to receive both VHF and UHF reception, I can address both of you in one answer.
We would recommend going to www.antennapoint.com. Here you are prompted to put in your location and you can see exactly where your broadcast signals are coming from. To recommend an antenna we have to factor in how far you are away from your broadcast towers and also the geographical terrain near by. For instance, someone living in the city close to the broadcast towers might experience more interference because of the tall buildings, as opposed to someone living outside the city, but without all those tall buildings, might receive better reception.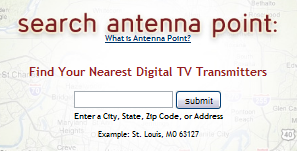 For the most part, all of our antennas can function as UHF/VHF antennas, but their success may be limited especially if you are trying to get channels on the very low end of VHF (channels 2-6). So Anton, since you indicated that you have high VHF in your area we would recommend you consider the distance between you and your broadcast towers and any impediments you may have.
Otherwise, we would recommend using the ClearStream5 antenna as a great high powered antenna that can pick up both of these signals.
And for Aubre who is using a 50-60 foot coaxial cable, you will probably need to use an amplifier to overcome the length of your cable. Here are a few blog posts about amplifiers that we recommend.
Do I Need an Antenna Amplifier with my Antenna?
What is the Difference Between an A Distribution Amplifier and a Preamplifier?