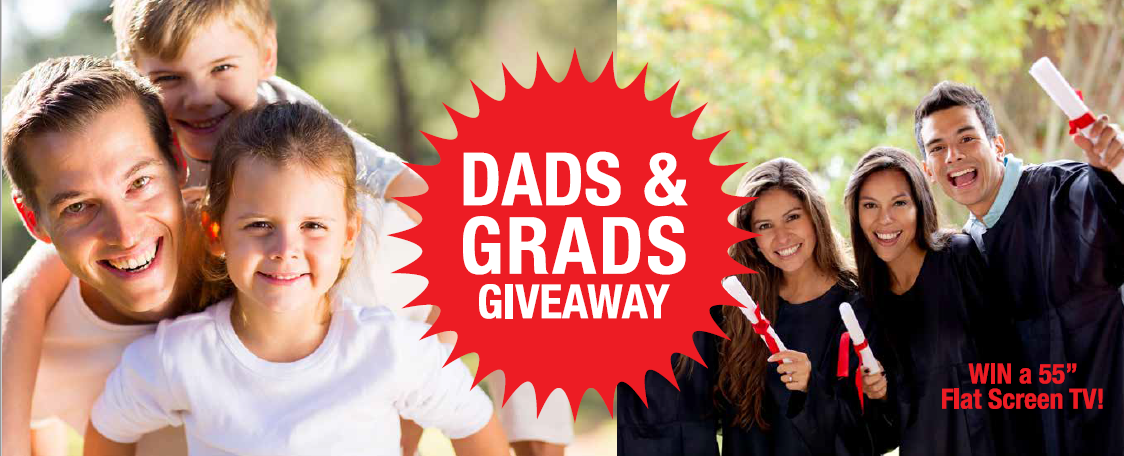 For many folks, especially our kiddos, this is a favorite time of year. The school year is over, summer vacations planned, a break from the homework, and for dads, a day to celebrate you for being a pretty awesome dude.
To celebrate both those special father's and lucky graduates, we are hosting a Dads and Grads giveaway!
Our Dads and Grads giveaway will run May 17th-June 13th. Simply fill out the form HERE and you are entered to win! One entry per person, please.
Giveaway Prize:
55″ LED Smart HDTV Roku TV- You want a great TV to watch all your FREE OTA and streaming shows.
ClearStream Eclipse antenna- Simply slap on a window or wall, plug into your TV, scan for channels and you'll be watching glorious, crystal clear TV.
Whether you're having a laid back, backyard BBQ to celebrate these special humans or a blown out party, you'll be their favorite human if they unwrap these gifts. And what better way to thank your dad or husband for being a kicka** human then winning him the ultimate Father's Day present? And same goes to you graduates. The winner of this prize pack would have the hottest pad for entertaining, hands down.
Here's to you, dads and grads! We raise a beer to you, congratulations on raising children who don't totally suck and managing to not sleep through all your classes. We know it was a challenge, and we applaud you!