Posted in Cut the Cord | Comments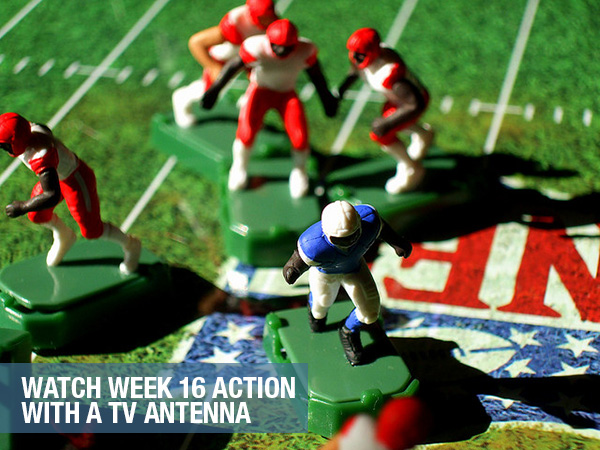 Each week we bring you the latest guide to watching the NFL for free. The following is the guide for Week 16.
There's a reason the National Football League (NFL) still broadcasts the Super Bowl on over-the-air, free broadcast. That's because the best way to watch the biggest game of the year is on the unadulterated high definition you get only from a TV antenna.
Thanks to NFL's commitment to TV networks, there are multiple pre- and post-game shows and multiple gamecasts on NBC, CBS and Fox. So whether tailgating or in the comfort of your home, the best way to catch each weekend's gridiron action is with a TV antenna.
NFL -Cord Cutters Scorecard: Week 16
SATURDAY GAMES (ALL TIMES ARE EASTERN  STANDARD TIME)
Philadelphia at Washington 4:30PM, CBS
San Diego at San Francisco, 8:25PM, CBS 
SUNDAY GAMES
Atlanta at New Orleans, 1:00 PM, FOX
Kansas City at Pittsburgh, 1:00 PM, CBS
Baltimore at Houston, 1:00 PM, CBS
Green Bay at Tampa Bay, 1:00 PM, FOX
Minnesota at Miami, 1:00 PM, FOX
Detroit at Chicago, 1:00 PM, FOX
Cleveland at Carolina, 1:00 PM, CBS
New England at N.Y. Jets, 1:00 PM, CBS
N.Y. Giants at St. Louis, 4:05 PM, FOX
Buffalo at Oakland, 4:25 PM, CBS
Indianapolis at Dallas, 4:25 PM, CBS
Seattle at Arizona, 8:30 PM, NBC
MONDAY GAMES
Denver at Cincinnati, 8:30 PM, ESPN
For Monday Night's Game, check out the Watch ESPN app or Sunday NFL Ticket or go to the nearest local pub.
For more on NFL gameday activity visit CBS Sports.
photo credit: John-Morgan via photopin cc